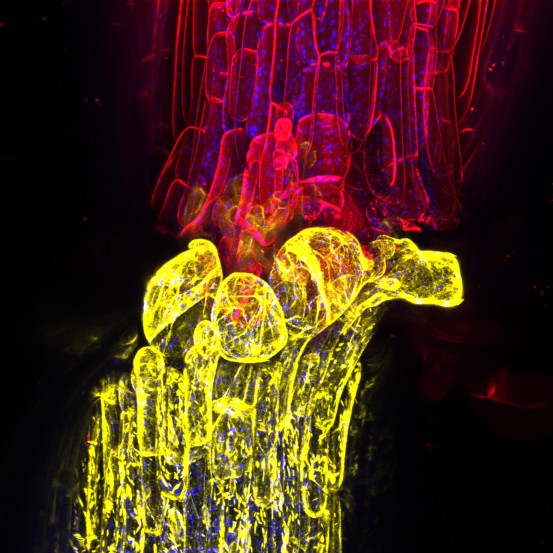 From Salk Institute:
Grafted plants' genomes can communicate with each other
Agricultural grafting dates back nearly 3,000 years. By trial and error, people from ancient China to ancient Greece realized that joining a cut branch from one plant onto the stalk of another could improve the quality of crops.

Now, researchers at the Salk Institute and Cambridge University have used this ancient practice, combined with modern genetic research, to show that grafted plants can share epigenetic traits, according to a new paper published the week of January 18, 2016 in the Proceedings of the National Academy of Sciences.
…
"Grafting is something done often in the commercial world, and yet, we really don't completely understand the consequences for the two plants," says Joseph Ecker, one of the senior authors of the paper and director of Salk's Genomic Analysis Laboratory. "Our study showed genetic information is actually flowing from one plant to the other. That's the surprise to me."
That genetic information shared between plants isn't DNA—the two grafted plants keep their original genomes—but epigenetic information is being communicated within the plant.More.
See also: Epigenetic change: Lamarck, wake up, you're wanted in the conference room!
Hmmm. Even plant can communicate. Do they know they are communicating?
Must life forms communicate in order to remain alive?
Here's the abstract:
RNA silencing at the transcriptional and posttranscriptional levels regulates endogenous gene expression, controls invading transposable elements (TEs), and protects the cell against viruses. Key components of the mechanism are small RNAs (sRNAs) of 21–24 nt that guide the silencing machinery to their nucleic acid targets in a nucleotide sequence-specific manner. Transcriptional gene silencing is associated with 24-nt sRNAs and RNA-directed DNA methylation (RdDM) at cytosine residues in three DNA sequence contexts (CG, CHG, and CHH). We previously demonstrated that 24-nt sRNAs are mobile from shoot to root in Arabidopsis thaliana and confirmed that they mediate DNA methylation at three sites in recipient cells. In this study, we extend this finding by demonstrating that RdDM of thousands of loci in root tissues is dependent upon mobile sRNAs from the shoot and that mobile sRNA-dependent DNA methylation occurs predominantly in non-CG contexts. Mobile sRNA-dependent non-CG methylation is largely dependent on the DOMAINS REARRANGED METHYLTRANSFERASES 1/2 (DRM1/DRM2) RdDM pathway but is independent of the CHROMOMETHYLASE (CMT)2/3 DNA methyltransferases. Specific superfamilies of TEs, including those typically found in gene-rich euchromatic regions, lose DNA methylation in a mutant lacking 22- to 24-nt sRNAs (dicer-like 2, 3, 4 triple mutant). Transcriptome analyses identified a small number of genes whose expression in roots is associated with mobile sRNAs and connected to DNA methylation directly or indirectly. Finally, we demonstrate that sRNAs from shoots of one accession move across a graft union and target DNA methylation de novo at normally unmethylated sites in the genomes of root cells from a different accession. (Public access) – Mathew G. Lewseya,b,1,2, Thomas J. Hardcastlec,1, Charles W. Melnykc,3, Attila Molnarc,4, Adrián Vallic, Mark A. Uricha, Joseph R. Nerya, David C. Baulcombec,5, and Joseph R. Eckera,b,d,5
Follow UD News at Twitter!