---
A debate I'm currently involved in with some theistic evolutionists, has for me produced a realization. There is one huge difference in how evolutionists and ID folks can argue for their views.
ID has the benefit of being able to argue for design by comparing to objects we know for certain were intelligently designed. Evolution does not have this advantage.
I frequently compare the flagellum motor to the electric motor because they have so many parts in common that it is silly to consider one designed while the other a product of blind unguided evolution. The ATP synthase is another component from the living world you can compare to engineered machinery. It too has individual parts that are analogous to motor parts for instance a camshaft-like axle with an excentric that mechanically opens protein subunits during the shaft's rotation, a feature also found in some pumps . Another comparable feature from nature is the cog operated synchronisation in grasshopper's legs, – a system that is 100 % analogues to the synchronization of the throttles in some twin choke carburettors.
So ID supporters can substantiate their claims by comparing specific features in living organisms to objects we know for sure were designed. But what about evolutionists?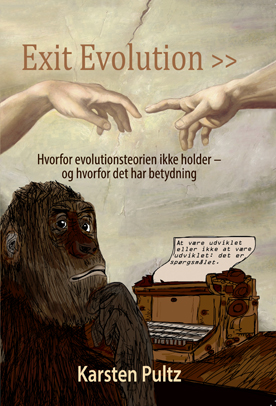 Evolution by unguided processes is a phenomenon not observed anywhere. It is purely an abstract idea thought to be detected solely as the causal agent in nature. Evolution cannot be compared to anything because no thing but nature is assumed to be the product of this particular process. Evolutionists are therefore placed in a much worse situation when it comes to arguing for their view, because they can't point to any other area for comparison, where evolution or an evolution-like process has produced complex functional systems and machinery.
Proponents of ID can point to actual design when making their case while evolutionists can point to nothing, because nothing has ever been produced by an evolution-by random mutation and natural selection-process.
Now think about it. Many investigative areas rely on us being able to compare. Because the universe is governed by laws, we expect similar effects to have been produced by similar causes. Any investigation which purpose is to try to establish a cause for an observed object, event or phenomenon will use comparison to already known causes and effects. ID can do that but evolution can't. Evolution as a causal explanation for a phenomenon is yet to be established, it is an explanation which still needs to show up as a fact for the first time.
Intelligent design is a cause we already know exists and hence we can compare features in living things with for instance machinery that we know for certain is designed. Evolutionists are deprived this luxury, their point of reference is an abstraction not a comparison to an existing well known cause.
You only start looking for a new and previously unknown cause, when you have run out of all known causes as possible explanation. What has happened in the field of biology is that a well known causal explanation has been completely replaced by a new previously unknown and entirely theoretical one. This is kind of weird because the well known cause, namely design, could still be around and taken into consideration as plausible explanation for instance in the cases ID is pointing to. Instead design has been totally abandoned. I cannot imagine any other investigative discipline where you would discard a perfectly good causal explanation that is known to produce those phenomena you are observing.
If ID became the ruling hypothesis would evolution then be discarded? I don't think so because certain properties of nature would still best be explained by evolutionary mechanisms.
An a priori exclusion of intelligent design as causal explanation is illogical, unreasonable and unscientific in the same way it would be if forensic scientists always concluded death by accident because they in advance had ruled out the possibility of death by design.
---
Pultz is the author of Exit Evolution.