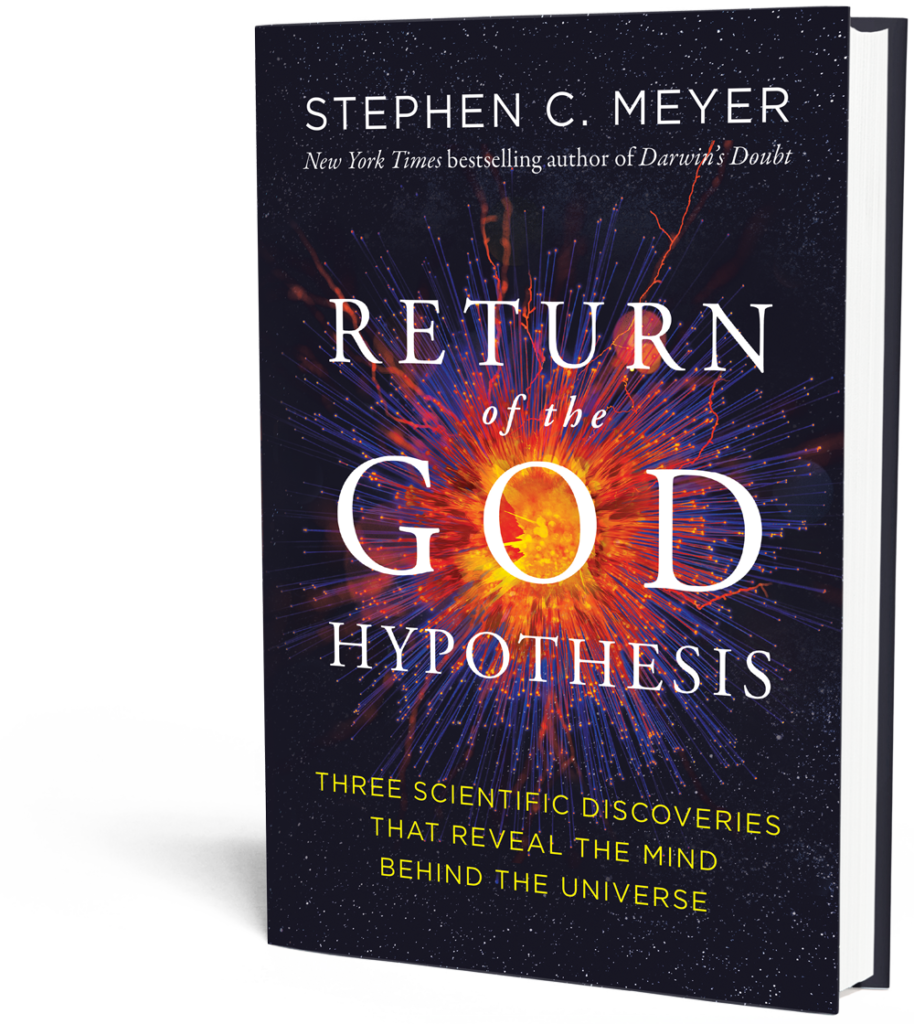 From a review of Steve Meyer's The Return of the God Hypothesis:
As Meyer explains, the materialist assumption—the convention that scientific explanation means explanation without recourse to God—has not always been part of the scientific method. It gained primacy after Darwin in order to facilitate scientific discovery. Today, the hegemony of the materialist assumption is complete. The textbooks presuppose it. The mainstream takes it for granted. But what if it is not true? Meyer argues that the materialist assumption now poses an obstruction to understanding, compelling scientists to embrace implausible and untestable hypotheses as a defense against the God hypothesis.

Meyer is not the first writer to recognize that science has bitten its own tail (to quote Nietzsche's apt phrase in The Birth of Tragedy): that science has created dilemmas which cannot be answered by science. Nine years ago, New York University professor of philosophy Thomas Nagel published Mind and Cosmos: Why the Materialist Neo-Darwinian Conception of Nature Is Almost Certainly False. Nagel, an atheist, noted that most materialists simply assume the universe consists of nothing more than matter, energy, space, and time. But this claim is an assumption, not a fact. Citing earlier work by Dr. Meyer among other sources, Nagel argued that the available evidence strongly suggests there must be a fifth element in the universe which Nagel called Mind, whether immanent or transcendent. Reviewing Meyer's previous book, Darwin's Doubt (2013), in these pages, Yale professor of computer science David Gelernter agreed that the current materialist assumptions regarding neo-Darwinian evolution simply can no longer stand in light of the overwhelming evidence ("Giving Up Darwin," Spring 2019). Gelernter was pilloried in the popular media for praising Meyer's book, even though Gelernter specifically disavowed intelligent design. But Gelernter and Nagel make a good case that religious zealotry, and a refusal to debate the facts honestly, now characterize Meyer's opponents more than they do Meyer and his supporters.

Leonard Sax, "The Ambiguity of the Evidence" at Claremont Review of Books (Fall 2021)
Actually, never mind intelligent design, panpsychism is also gaining ground on Darwinian naturalism.
---
You may also wish to read: Why panpsychism is starting to push out naturalism. A key goal of naturalism/materialism has been to explain human consciousness away as "nothing but a pack of neurons." That can't work. Panpsychism is not dualism. By including consciousness — including human consciousness — as a bedrock fact of nature, it avoids naturalism's dead end.