Martin McGuigan  reports:
There are nearly 8 billion people(opens in new tab) living on Earth today, but our planet wasn't always so crowded.
Around 300,000 years ago, when Homo sapiens likely first appeared, our total population was small, between 100 and 10,000 people. There were so few people at the start, that it took approximately 35,000 years for the human population to double in size, according to Joel E. Cohen, head of the Laboratory of Populations at the Rockefeller University and Columbia University in New York City. After the invention of agriculture between 15,000 and 10,000 years ago, when there were between 1 million and 10 million individuals on Earth, it took 1,500 years for the human population to double. By the 16th century, the time needed for the population to double dropped to 300 years. And by the turn of the 19th century, it took a mere 130 years.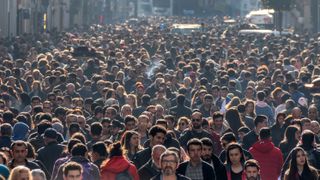 From 1930 to 1974, the Earth's population doubled again, in just 44 years. But is the human population expected to continue growing at this rate? And is there an upper limit to how many humans our planet can support?
"The future of the world population is driven by a mixture of survival and reproduction," Patrick Gerland at the United Nations (UN) Population Division in New York City, told Live Science. "If you have a ratio of two children per couple, then you can keep going to a more or less stable size of the population. Once you get to a number smaller than two, from one generation to the next, your population will shrink, or decline. If you are above that and the majority of people survive, then your population will grow." 
Many low-income countries around the world have high birth rates and large family sizes, but also a high rate of infant mortality and shorter lifespans. But, Gerland said, "More and more countries, once they reach a certain stage of socioeconomic cultural development, tend to converge towards about two children [per couple] or fewer." This means that while access to health care increases lifespans, suggesting population growth, this tends to occur in countries with a falling birth rate.
Global population growth peaked in the 1960s and has slowed since then. In 1950, the average birth rate was 5.05 children per woman, according to the UN Population Division(opens in new tab). In 2020, it had fallen to 2.44 children per woman. 
As Gerland explained, "Right now the scientific consensus is that the population of the world will reach a peak some time later this century. The world population is projected to reach 10.4 billion people sometime in the 2080s and remain there until 2100, according to the United Nations Population Division. But Gerland stressed the further that demographers look into the future, the more speculative and uncertain their predictions become.
Full article at Live Science.