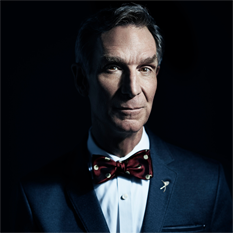 From Mic, via AP: Bill Nye, the Science Guy, has been in the news a lot. From Bruce Haring and Erik Pedersen at Deadline:
Bill Nye Hits Disney With $37 Million Fraud Suit Over 'Science Guy' Profits
Bill Nye the Science Guy ran on PBS from 1994 to 1999 and also was syndicated to local stations. The show aired for 100 half-hour episodes spanning five seasons and was nominated for 23 Emmy Awards, winning 19
The suit that Nye and his lawyers put before the court contends that "the disturbing size of the supposed 'accounting error,' coupled with the seeming indifference of both BVT and WDC, left Nye suspicious of the veracity of the accounting." More.
See also: Bill Nye would criminalize dissent from human-caused global warming claims.
Bill Nye: The old must die before we have a public that freaks out about climate change
March for Science, Bill Nye, and constitutional government
These vids certainly show a different side to Bill Nye…