Does that mean anything? The reason we ask is,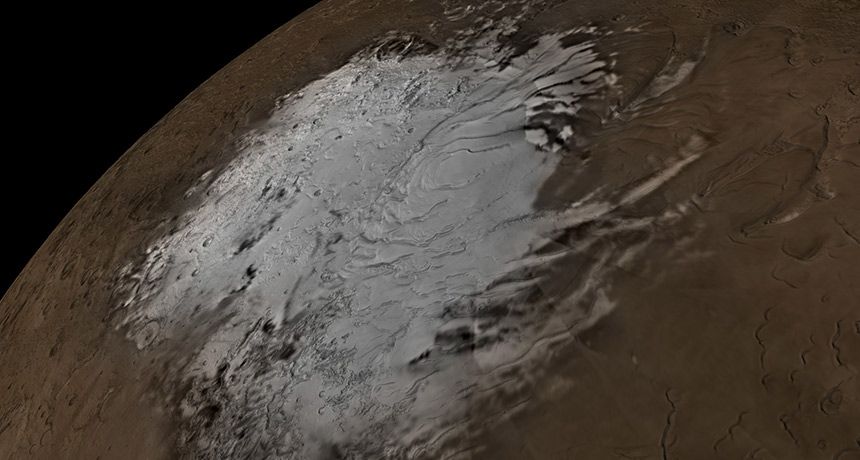 From Lisa Grossman at Science News:
A Mars orbiter has detected a wide lake of liquid water hidden below the planet's southern ice sheets. There have been much-debated hints of tiny, ephemeral amounts of water on Mars before. But if confirmed, this lake marks the first discovery of a long-lasting cache of the liquid.
"This is potentially a really big deal," says planetary scientist Briony Horgan of Purdue University in West Lafayette, Ind. "It's another type of habitat in which life could be living on Mars today."More.
and
From JPL/NASA:
New comprehensive mapping of the radiation pummeling Jupiter's icy moon Europa reveals where scientists should look — and how deep they'll have to go — when searching for signs of habitability and biosignatures.
Since NASA's Galileo mission yielded strong evidence of a global ocean underneath Europa's icy shell in the 1990s, scientists have considered that moon one of the most promising places in our solar system to look for ingredients to support life. There's even evidence that the salty water sloshing around the moon's interior makes its way to the surface.
The problem is that blasts of radiation from Jupiter would kill surface life and alter surface biosignatures. However, the radiation zones appear to be oval-shaped region connected at the narrow ends that cover half the moon.
So how deep the researchers need to dig to find life? According to recent research,
The answer varies, from 4 to 8 inches (10 to 20 centimeters) in the highest-radiation zones – down to less than 0.4 inches (1 centimeter) deep in regions of Europa at middle- and high-latitudes, toward the moon's poles. More.
So if we don't find life in the most favorable locations, are we justified in drawing the conclusion that life is just not very common in the galaxy and that we are special? As opposed to They Must Be Out There Somewhere, experienced as an act of faith? What makes that act of faith "science"?
See also: If we are alone in the universe, shouldn't that make us feel more special?
Instead of meaningless? How exactly did we get from "alone" to "meaningless" via eloquence from tenured pundits? Where do we buy return tickets?
SETI reacts to the new study that says not to wait up for extraterrestrials
and
Researchers: We have dissolved the Fermi Paradox!