"It's not a bug, it's a feature!"
This is a phrase a software engineer will use to jokingly confess his software has a defect.
When Sharon Moalem wrote the NY Times Bestseller, Survival of the Sickest: Why We Need Disease, he probably did not intend to make a joking confession of flaws in Darwin's theory, but he succeed in doing so.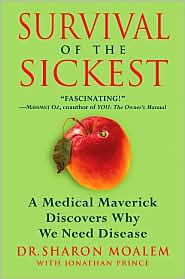 Recall the words of Darwin:
Natural Selection is daily and hourly scrutinising, throughout the world, the slightest variations; rejecting those that are bad, preserving and adding up all that are good.

C.DARWIN sixth edition Origin of Species — Ch#4 Natural Selection
If Darwin's claim is true, why then are we confronted with numerous, persistent, hereditary diseases?
Can it be that Darwin was wrong? The obvious answer is yes. But in the face of an obvious flaw in Darwin's ideas, Moalem argues that what appears to be a flaw in Darwin's theory is actually an ingenious feature! Moalem extols the virtues of disease, and since disease is virtuous, natural selection will favor it.
It is accepted that sickle-cell anemia persists because of natural selection, but what about other diseases? Moalem explores many other diseases like diabetes, hemochromatosis, high cholesterol, early aging, favism, obesity, PANDAS, CCR5-delta32, xenophobia, etc. showing how natural selection incorporated these "virtuous" diseases into our species.
Moalem is not alone in arguing that natural selection creates through the process of destruction. For example, Allen Orr suggests that natural selection is the cause of blindness in Gammarus minus. In the world of Darwin, what happened to Gammarus minus isn't the loss of vision, it is the creation of blindness. And since selection favors blindness in Gammarus minus, blindness is a functional improvement! Once again, Darwinism is immune to any testability through the process of constantly redefining what is considered "good".
The net result is that Moalem's book becomes an unwitting critique of Darwinian evolution. It highlights numerous empirical examples of how natural selection actually goes against Darwinian ideas of constant progress, and instead demonstrates how natural selection can be an agent of demise.