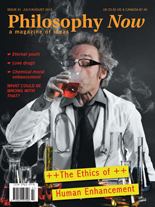 In "Notes Towards a Philosophy of Sleep" (Philosophy Now, Jul/August 2012), philosopher and neuroscientist Raymond Tallis "takes us from A to Zzzzz.":
Since all animals sleep, we assume it has a biological purpose. The trouble is, we don't know what that purpose is. There are many theories – energy conservation, growth promotion, immobilisation during hours of darkness when it might be dangerous to be out and about, consolidation of memories – but they are all open to serious objections. William Dement, one of the leading researchers of the last century and co-discoverer of Rapid Eye Movement sleep, concluded from his fifty years in the forefront of the field that "the only reason we need to sleep that is really, really solid, is that we get sleepy."
There is a kind of pathos to our vulnerable, gullible, sleeping selves, and the dreams that something that is ourself and yet not ourself puts together in order to make narrative sense of what is going on in our brains and bodies when they are almost completely disconnected from the world. To meet our insatiable appetite for coherent meaning, we unpack a whole scene out of a sensation, say, or make sense of a sudden movement of a limb by inventing a cliff down which we are falling. The fact that we can make a sort of sense out of whatever is served up to us is an interesting sidelight on the question of the relationship between the real and the rational: whatever we can rationalise may seem real to us, and whatever seems real to us we try to rationalise – with impressive rates of success. The division within our (mind-constructed) dreams between the 'I' that is making sense of what is there, and the 'there' that is made sense of – so that we can even wait tensely for what happens next – is particularly striking.
Interestingly, this creepy article was the mag's cover story that month.
See also: Few opponents will debate atheist neuroscientist Raymond Tallis, who is tired of neurotrash And Darwinitis