The National Snow and Ice Data Center had to pull down its January and February arctic ice extent data because a deteriorating sensor on a satellite was slowly changing ice to water. By mid-February when someone noticed the readings were off by a half-million square kilometers. That's a lot of ice when you consider that the all-time low (at least since 1980 when measurement started) in 2006 was down by less than 1.5 million square kilometers from the average.
Read more at NSIDC: Satellite sensor errors cause data outage
In other "global warming" news, the NSIDC reports that antarctic sea ice is at a record high (at least since 1980 when measurement started). The new high is REALLY high. It's 50% greater than the old record set in 1995. In case anyone is laboring under the misapprehension that antarctic sea is retreating, it ain't. The 30-year trend is up 2.5% per decade.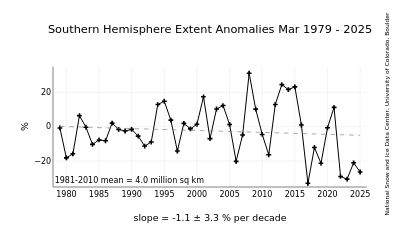 As the northern hemisphere warmed the southern hemisphere cooled. They don't tell you that because, well, it's not so easy to work you into a panic when the planet isn't really warming. Only the northern hemisphere where most of the humans and human industry is located was warming and a lot of that was simply thermometers that were located near gradually increasing urban heat islands.
Repeat after me:
CO2 is plant food…
CO2 is plant food…
CO2 is plant food…