Extraterrestrials on Earth: Scientists find outer space stuff at South Pole
Well, it turns out,

ET isn't out there … he's already here.
[In our junk DNA, like that super-smart scientist says? But do we even have that much junk DNA for them to hide in any more? Oh wait, that's a different stream of consciousness …]
Scientists have discovered travelers from beyond our solar system buried under the ice of the South Pole — not living creatures or space beings but tiny, extra-terrestrial particles known as neutrinos.
"Extra-terrestrial in this context means coming from outside the solar system," Olga Botner, a professor in the department of physics and astronomy at Uppsala University in Sweden, told FoxNews.com. "For the first time ever we now have evidence for a flux of high-energy neutrinos from outside the solar system."
Now they tell us, eh?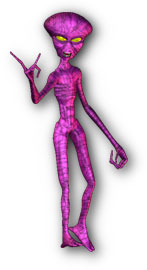 Fox is certainly a serial offender in this area, but probably not worse than MSNBC:
Is "Habitable planets, hype-able planets,what the diff?" (Fox) documenting a worse example than the one documented at "Is faith in the space aliens a duty? Are doubts anti-science?" (MSNBC)
Best suggestion to our gentle reader: Treat popular science media as light entertainment on these subjects, and worry mainly when nonsense starts to invade TED talks, for example.
There should be some venues that strive to be nonsense-free, just for the sake of variety.
But what do readers think? Who's the most fanciful? Nominations welcome.