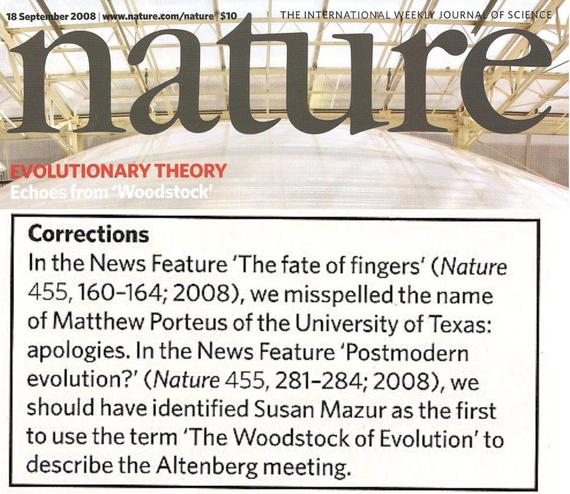 Suzan Mazur notes at Huffington Post that the semiotics journal Sign Systems Studies (University of Tartu Press) published an article on the recent Royal Society conference on new trends in evolution.
In the opening pages of his article, Kull decides to cite the July 2008 Altenberg conference as one of those pivotal events, a meeting of scientists called to determine whether or not an extended evolutionary synthesis was needed. I was barred from attending Altenberg for getting out in front of the story.
Kull then proceeds to mention branding of Altenberg as the "Woodstock of Evolution," because it created a sensation and put the meeting on the map, gave it life.
That branding took place in a newsbreaking story of mine by the same name, syndicated online March 4, 2008 by Scoop Media: "Altenberg! The Woodstock of Evolution?"
But Kull in his article decides to attribute the "Woodstock of Evolution" to author John Whitfield instead. Whitfield's story actually trailed mine by six months appearing in the September 18, 2008 issue of Nature — the Woodstock reference on the cover and the Altenberg story that I broke inside, but no attribution to my story. Nature was forced to apologize in the October 2 issue by way of correction and later appended that correction to the Whitfield story. More.
No question, Mazur invented the term "Woodstock of Evolution." But of course, with the lid blowing off the mess, the containment team tries to attribute the term to someone who is very much less likely to continue to demand accountability. Is it remotely probable that a politically correct secretary to science boffins would have thought of such a term?
Or is Whitfield more than their office help? Does he want to fight Mazur for the title?
If so, we'll hear. Meanwhile, when people are squabbling over the credit for advertising the bankruptcy of Darwin Incorporated, maybe all future meetings on the subject should begin with that bankruptcy as an established fact. Would save us some time.
The book behind the tiff is Mazur's The Altenberg 16: An Exposé of the Evolution Industry (2009). But she has since written several more books, including Paradigm Shifters and Public Evolution Summit. Both are highly recommended, along with The Altenberg 16: An Exposé of the Evolution Industry (2009), if you want to know why evolution insiders are getting fed up with the Darwinocracy.


Why is it all such a problem to admit?: We've learned so much about how life forms change over time that a lot of recent past theory is just deadweight now. Whatever happened to Dollo's Law? Vestigial organs? Junk DNA? All predicted by past theory and not found as predicted, but the system seemingly never gets replaced with a better one.
See also: Suzan Mazur on Royal Society finally agreeing to release evolution documents
Follow UD News at Twitter!