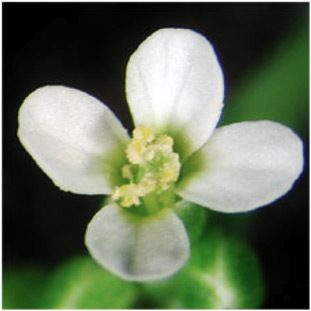 From Institute for Basic Science:
When spring is approaching, how do plants decide that it is time to flower? A team of plant scientists led by KWAK June M. at the Center for Plant Aging Research, within the Institute for Basic Science (IBS) unravelled a new mechanism to explain this seemingly easy, but actually complicated question. Their research was published in the Proceedings of the National Academy of Sciences (PNAS) on November 11, 2016.
…
Epigenetic regulation is one of the major mechanisms to control flowering time. It regulates gene expression through chemical modifications of DNA and its interacting proteins, but without changing the DNA sequence. If you think of the DNA contained in each cell as a big book that contains all the information, these chemical modifications can be thought as bookmarks that tell the cell which pages to read and which to skip over time. A particular type of chemical modification called acetylation, occurring on DNA bounded proteins (histones), can be promoted or removed by specific proteins. Arabidopsis has at least 18 proteins that remove these chemical modifications and are referred to as histone deacetylases (HDACs). Which are the targets of HDACs, how they coordinate with each other and how they interact with other proteins is still unclear. This study discovered the proteins that interact to one of these chemical modifications that controls the time of flowering. More.
Darwinists: Merry Christmas. Go home.
See also: Researchers: Epigenetics helps cells remember who they are
and
Epigenetic change: Lamarck, wake up, you're wanted in the conference room!
Follow UD News at Twitter!