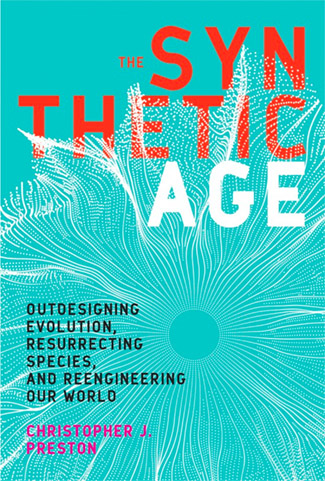 First, do you recognize the city this philosophy prof thinks most of us are living in?
For a species that spent close to 200,000 years living in grasslands and scrubby forests, hunting and foraging, and using skins, wood, and grasses for shelter, we are increasingly occupying an evolutionarily unfamiliar niche, where the sensory and physical dimensions of a life lived in daily contact with the natural world have been replaced by a whole set of alternate experiences: Cement and traffic, 90-degree corners, bars, sirens, glass, and streetlights increasingly dominate our senses. As far as our genes are concerned, we live in an alien world. Phobias about snakes slithering out of toilet bowls, coyotes snatching children out of strollers, and diseases infiltrating city water supplies reveal the location of our biological roots. The shadow of the wild continues to haunt the psyche of even the most entrenched urbanite.

Christopher Preston , "The Evolutionary Power of Cities and Light" at The MIT Press Reader
Hmmm. Do you hear much about snakes slithering out of toilet bowls, where you live? In Ottawa we hear plenty of bitching about high rent, high taxes, slow buses, and slow snow removal. But not snakes. (O'Leary for News)
That said, Preston, author of The Synthetic Age, offers some interesting data on how wildlife adapts to living off human bounty:
Alongside us, fast-breeding and opportunistic species are changing their behaviors and their genomes so that they will fit better in the urban world. City-dwelling swallows are evolving shorter wings that allow them to avoid the traffic better, and sparrows and starlings have raised the pitch of their calls to compensate for the background urban noise. Moths are gaining different color patterns so that they have more suitable camouflage in their new concrete habitat. Evolutionary forces are turning city-bound mice into separate subspecies in different city parks, unable to exchange genes with cousins who live a few blocks away.

Christopher Preston , "The Evolutionary Power of Cities and Light" at The MIT Press Reader
Maybe things were meant to be this way? How do we know they weren't? Humans naturally produce lots of food we don't really need.
And it happened pretty quickly for Darwinian evolution. As for the mice, they must contend with an urban environment where many people keep cats for emotional reasons and the cats hunt mainly for fun. Visiting cousins might not even be wise. Remember the tale of the City and the Country Mouse? This, it turns out, is a tale of Evolution!