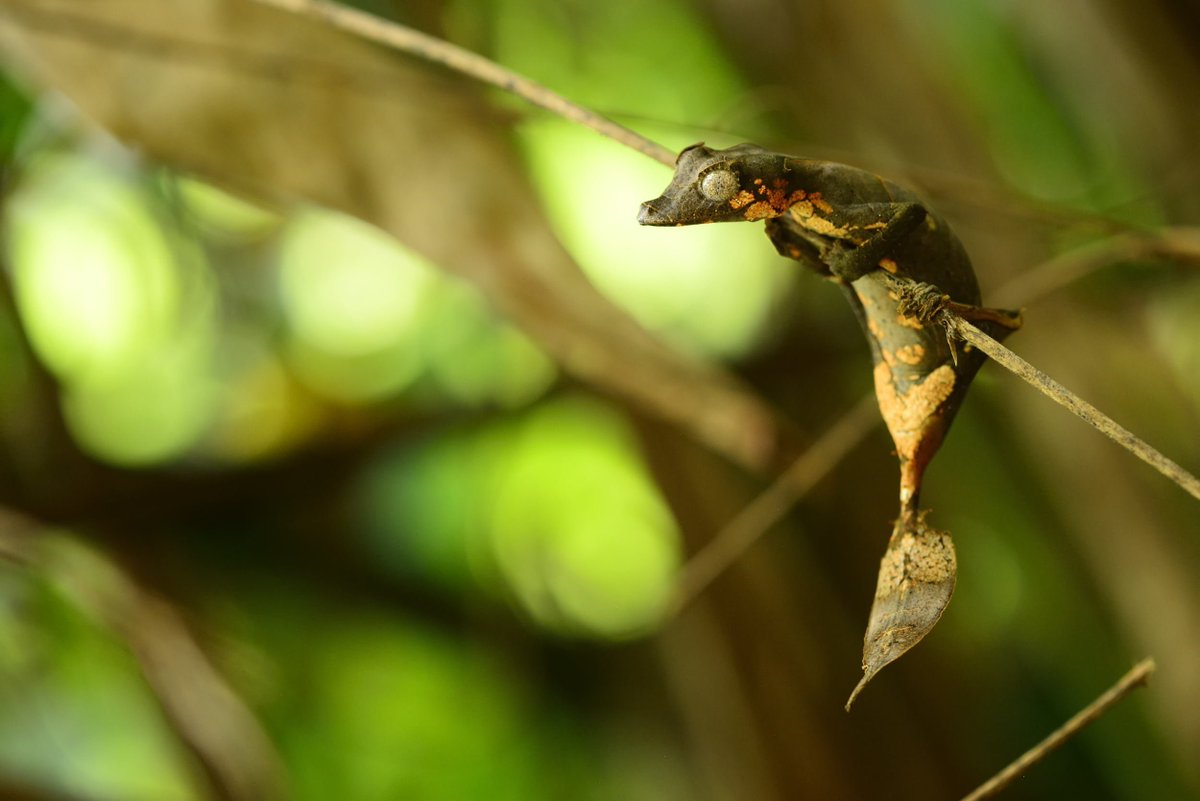 A newly discovered gecko is another dramatic example of detailed camouflage:
As night falls on the lowland rainforests in Madagascar, dead, decaying leaves find new life, slowly unfurling in the vanishing light. But as four scaly feet and wide, unblinking eyes emerge from behind the crinkly veil, the leaves reveal their true identities: these are leaf-tailed geckos, unparalleled masters of disguise. Now, researchers have described a species of these secretive lizards totally new to science, discovered in a protected corner of the island.

With charismatic lemurs, cat-like fossas, and prickly tenrecs, Madagascar has no shortage of endemic species. Leaf-tailed geckos, genus Uroplatus, are similarly a Madagascan original. Well over a dozen species have evolved on the island, and all are equipped with impressive camouflage. In the ultimate RPG of Life, these reptiles have maxed out their stealth skill trees, appearing indistinguishable from an old leaf when at rest. Their tails are flattened and leaf-shaped, and their skin has blotchy colors and textures, even incorporating ragged edges on skin folds for that authentic, "brittle decay" look.Jake Buehler, "Newly Discovered Gecko Species Is Extremely Good at Being a Leaf" at Gizmodo
Presumably to avoid predators.
The newly discovered species comes from low altitude areas of Marojejy National Park on Madagascar's northeastern tip. During the day, the leaf-tailed geckos are difficult to spot. They tend to hang out in dead leaves, covering themselves with their deceptive tail and sticking their limbs out like twigs. At night, however, they come alive, actively hunting in the dense rainforest—that's when researchers conduct their surveys. Jason Daley, "Newly Discovered Leaf-Tailed Gecko From Madagascar Is Already Threatened by Pet Trade" at Smithsonian
Paper. (paywall)
The tail is amazing up close. One risk is that the species will be collected to near extinction.
There has never been a good Darwinian explanation for carefully detailed camouflage, despite Dawkins's sneers. What good for natural selection would looking a little bit like a leaf be?
See also: Moths use acoustic camouflage to evade bats
Researchers: Poison Frog Warning Colors Also Act As Camouflage
Insects Used Camouflage 100 Million Years Ago
and
Is this the first recorded instance of smell camouflage?
Follow UD News at Twitter!