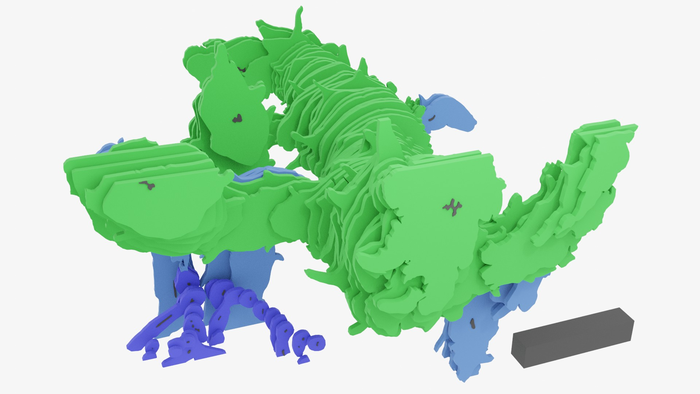 According to a reconstruction:
The first evidence-based 3D reconstruction of the fossil Asteroxylon mackiei, the most structurally complex plant from the Rhynie chert has shown how roots and other types of axes developed in this ancient plant. The fossil is preserved in chert (a type of flint) found near village of Rhynie in Aberdeenshire, Scotland. The specimens are exceptionally well-preserved in the 407-million-year-old rocks from the Early Devonian period.

The extinct genus Asteroxylon belongs to the group of plants called the lycophytes, a class that also comprises living representatives such as isoetes and selaginella. The reconstruction has allowed researchers, for the first time, to glean both anatomical and developmental information of this mysterious fossil. This is of particular significance because previous interpretations of the structure of this fossil plant were based to a large extent on comparisons of fragmentary images with extant plants.

The reconstruction demonstrates that these plants developed roots in an entirely different way than extant plants develop roots today. The rooting axes of A. mackiei are the earliest known types of plant roots. "These are the oldest known structures that resemble modern roots and now we know how they formed. They developed when a shoot-like axis formed a fork where one prong maintained its shoot identity and the second developed root identity," says Dolan. This mechanism of branching, called "dichotomous branching", is known in living plants within tissues that share structural identity. However, as Dolan stresses: "No roots develop in this way in living plants, demonstrating that this mechanism of root formation is now extinct". Their findings demonstrate how a now extinct rooting system developed during the evolution of the first complex land plant.

Gregor Mendel Institute of Molecular Plant Biology, "How the first roots developed more than 400 million years ago" at Eurekalert (August 25, 2021)
If Asteroxylon's system is extinct, there was less time for the current systems to develop.
The paper is open access.
---
You may also wish to read: At Mind Matters News: Do brains really evolve? The horseshoe crab's brain didn't At Science News: "The preserved central nervous system lends insight into the ancient crab's behavior, the researchers say. Because the fossil brain is so similar to the brains of modern horseshoe crabs, Bicknell says, it's safe to say the ancient animal's walking, breathing and even feeding habits were probably similar to horseshoe crabs' today, including eating with their legs."