Famine and disease from millennia ago likely spurred the rapid evolution of the trait on the continent.
Brian Handwerk writes:
Just 5,000 years ago, even though it was a part of their diet, virtually no adult humans could properly digest milk. But in the blink of an evolutionary eye northern Europeans began inheriting a genetic mutation that enabled them to do so. The trait became common in just a few thousand years, and today it's found in up to 95 percent of the population. By piecing together Neolithic pottery fragments and ancient human genomes, scientists may have solved the riddle of how European lactose tolerance evolved.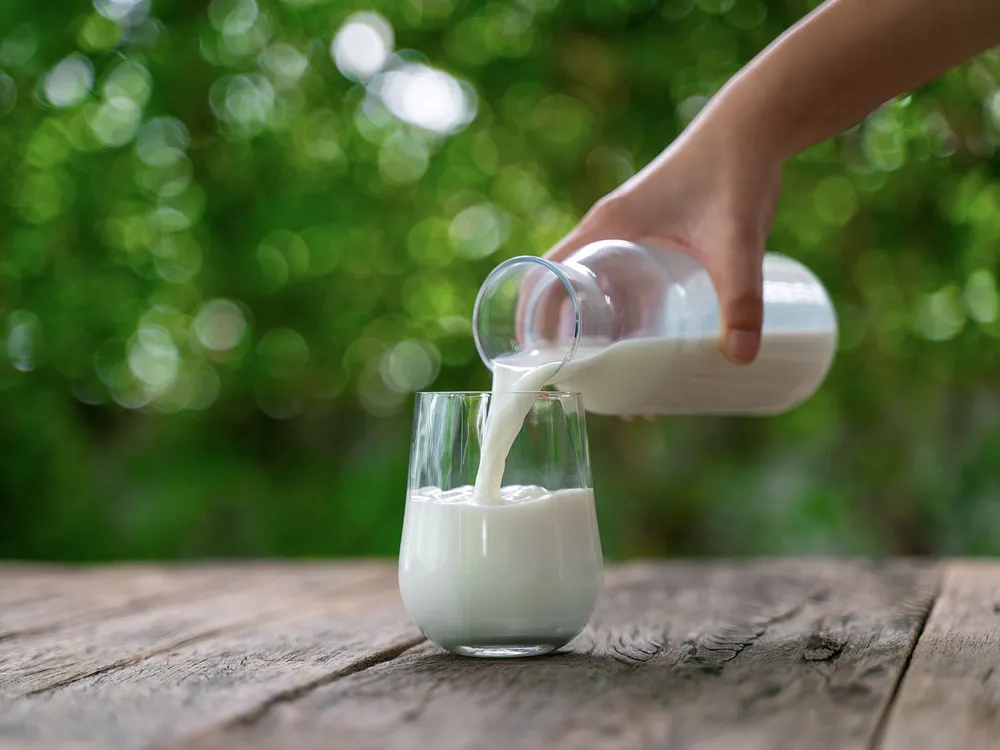 In a study published today in Nature, researchers compared archaeological evidence for 9,000 years of European milk use with genetics, and found an unusually rapid, evolution of lactose tolerance among Europeans well after they first started consuming the beverage. The authors suggest that something more extreme than regular milk consumption drove the genetic change. Exceptional stressors like famines and pathogens may have exacerbated milk's typically mild gastrointestinal effects on the lactose intolerant, creating deadly bouts of diarrhea and dehydration while making the ability to digest milk extra valuable.

"It rewrites the textbooks on why drinking milk was an advantage," says lead author Richard Evershed, director of the Biogeochemistry Research Center at the University of Bristol. "In order to evolve a genetic mutation so quickly, something has to kill off the people that don't carry it."
Almost all babies around the world are born with the ability to digest lactose—after all, it's found in breast milk. But about two-thirds of adults can no longer digest the natural milk sugar because the production of a milk-digesting enzyme called lactase switches off after they've finished weaning. That's why the majority of the world's adult population is lactase non-persistent, otherwise known as lactose intolerant.

The other third of the world's adult population has evolved lactose tolerance, meaning they keep producing lactase, and that's particularly true among groups like those of northern European descent.
"When you look at the ancient genomes no one has lactose tolerance until recently, the past few thousand years." For a genetic trait to become widespread that quickly, there should be a very important reason why people who have it survive and reproduce, while others die off.
Richard Evershed and colleagues mapped human milk use during the past 9,000 years, creating an enormous database from 6,899 animal fat residues derived from 13,181 fragments of pottery from 554 archaeological sites around Europe. Over the past three decades scientists, with experts like Evershed at the fore, have developed methods to analyze ancient pottery and reveal evidence of what it contained.
Evershed found plentiful evidence that humans were drinking milk widely, across Europe, from around 9,000 years ago.
George Davey Smith's finding created another question for researchers; if lactose intolerant individuals can drink milk with no major ill effects, what drove the dramatic genetic shift that caused so many Europeans to quickly develop lactose tolerance?
Some factor or factors must have fast-forwarded the evolution of lactose tolerance, likely by making it critically important and even a matter of life and death.
Wilkin adds that scientists have been floating various ideas to explain the mysteries of milk digestion, including how lactose tolerance evolved so late and so quickly, and why heavy milk consumers like the steppe dwellers remain lactose intolerant. Now, she says, a framework exists that can further investigate those questions.

Full article at Smithsonian.
Note: This example of "rapid evolution" appears to only be adaptation based on pre-existing variations in the human genome (in order to favor survival), not the production of novel genetic information based on random processes of any kind. As such, might it not serve as additional evidence of intelligent design?