From an interview in The Atlantic on why people fall for frauds:
Can You Spot a Liar?
Khazan: You talk about how it's hard to spot a fraudster or liar in person, but also that microexpressions might be a clue. Why is it so hard to detect lying, and is there anything you can do to make yourself better at rooting it out?
Konnikova: It's really difficult to do it because it's actually not evolutionarily adaptive. We are better placed if we trust people than if we don't trust anyone. I talk about infants and young children who need to trust that adults are going to take care of them. It makes us feel better when we accept people's little white lies at face value. It would be terrible if I knew that every time you said, "Maria, you look so beautiful today!" you were really thinking, "Oh, she looks tired, she didn't get enough sleep last night."
Utter rubbish, of the sort emitted between cozy elite women flogging a forgettable book, in this case, The Confidence Game.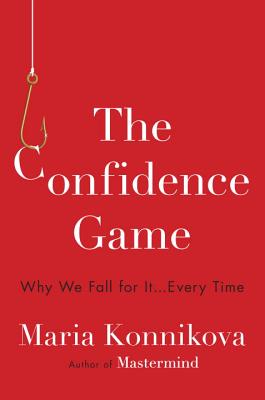 Human beings easily grasp the proper role of truth-telling in social speech. Hard to say whether any evolution is required, apart from the ability to grasp the general intent of communications.
We haven't really evolved to spot lies. Instead, we like to think that we can tell people are lying because once again, it makes us feel better, it makes us feel like we are good judges of character, it makes us feel like we know what's going on. So we often think that we are much better than we are.
This goes against a body of knowledge on the evolution of cheat detection. I don't know how useful that body of knowledge will prove to be, but I do know this:
Most of the women who are looking to author Konnikova to explain why they believed some cute guy won't care to hear about it. They need to believe they "evolved" to be gullible.
So that's the number one piece of advice I can give: to understand how bad you are. In a strange way, that makes you better, because you will try to find more signs to verify whether or not you're accurate. Is there anything objective you can point to that is a sign of deception? More.
Right. Do what human beings have always done, however it evolved.
And quit trying to blame everything and anything for your personal choice to believe what isn't true.
See also: Evolutionary psychology has the answer for everything, anything, nothing, contradictory things, and all of them at the very same time!
Follow UD News at Twitter!
Hat tip: Stephanie West Allen at Brains on Purpose