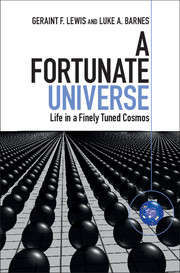 From astrophysicist Geraint F. Lewis at Cosmos:
For more than 400 years, physicists treated the universe like a machine, taking it apart to see how it ticks. The surprise is it turns out to have remarkably few parts: just leptons and quarks and four fundamental forces to glue them together.
But those few parts are exquisitely machined. If we tinker with their settings, even slightly, the universe as we know it would cease to exist. Science now faces the question of why the universe appears to have been "fine-tuned" to allow the appearance of complex life, a question that has some potentially uncomfortable answers.
Oh, not to worry. "Evolution" bred a sense of reality out of us and – assuming we were able to understand an explanation – the multiverse would bury the question in infinities of flopped universes. Right?
Lewis is not certain. He writes,
To some, the picture of the multiverse is comforting, naturally explaining the puzzle of our own fine-tuning. But at present, we have no idea whether this immense sea of universes exists, and they may always be beyond the reach of experiment and observation; if this is the case, is the multiverse more philosophical musing than robust science?
The fine-tuning of our universe for life represents a true mystery of science, a mystery that appears to point to something profound lying at the heart of science. We may never find out why we are living in a "just right" universe, but if we ever do, the universe, and our place in it, will be changed forever. More.
"Just right" universe will change our position forever? Actually, our position is changed already if we think that we can evaluate the evidence and decide to choose evidence over speculation. We don't know where we will end up but we will find ourselves in traditional science company.
Lewis and Luke Barnes have written a book, A Fortunate Universe: Life in a Finely Tuned Cosmos
See also: Multiverse cosmology at your fingertips
Follow UD News at Twitter!