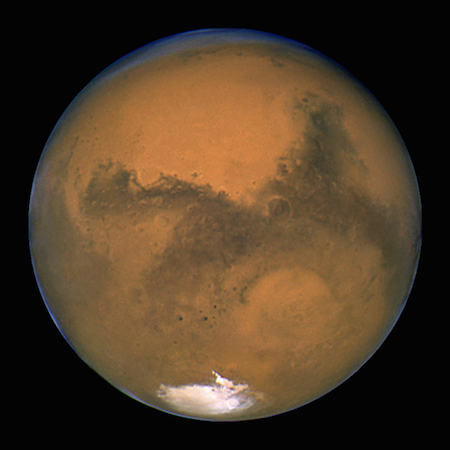 Physicist S. Fred Singer offers some suggestions pertaining to the hunt for life on Mars:
1. Super-rotation of the core

Seismic data, taken over a period of several years (Zhang, et al., Science 2005), suggest that the (innermost, solid iron) core is rotating slightly faster than the rest of the Earth, at 0.3-0.5 degrees/yr. We don't know if this super-rotation is constant or varies over time. The analysts did not suggest a cause, hence relatively little attention has been devoted to the phenomenon. Most scientists I talked to had never heard of it.

2. Possible explanation of super-rotation

If I invert the question and ask, "Why is the Earth rotating slower than its core?," then the answer becomes clear to me, and I can even calculate and estimate its magnitude. The slowing down may be caused by tidal friction, produced by the Moon. This also means that the super-rotation has been going on for billions of years.
…
6. We may assume that similar processes happened on Mars. I believe that its core was liquefied by tidal friction, but it has cooled and is no longer liquid. Mars no longer has a general magnetic field like the Earth. Its magnetosphere has now disappeared, but its shielding effect may have lasted long enough, I believe, to maintain an ocean on Mars's surface for some time.

7. Lundin and others have measured the removal of the Martian upper atmosphere by the sweeping action of the solar wind. The crucial question is this: did the Mars atmosphere and surface ocean exist long enough to permit the creation of life forms – as it did on Earth? S. Fred Singer, "Calculating life on Mars" at American Thinker
So he is hoping to find "either krypto-life or paleo-life, just below the Martian surface."
Follow UD News at Twitter!
See also: The early universe was flat to a "suspicious" one part in a million Hence cosmic inflation theory, promoted with some pretty wild theorizing
and
What becomes of science when the evidence does not matter?