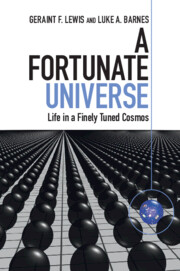 This is the sort of thing that multiverse enthusiasts need to talk around:
Since physicists have not discovered a deep underlying reason for why these constants are what they are, we might well ask the seemingly simple question: What if they were different? What would happen in a hypothetical universe in which the fundamental constants of nature had other values?

There is nothing mathematically wrong with these hypothetical universes. But there is one thing that they almost always lack — life. Or, indeed, anything remotely resembling life. Or even the complexity upon which life relies to store information, gather nutrients, and reproduce. A universe that has just small tweaks in the fundamental constants might not have any of the chemical bonds that give us molecules, so say farewell to DNA, and also to rocks, water, and planets. Other tweaks could make the formation of stars or even atoms impossible. And with some values for the physical constants, the universe would have flickered out of existence in a fraction of a second. That the constants are all arranged in what is, mathematically speaking, the very improbable combination that makes our grand, complex, life-bearing universe possible is what physicists mean when they talk about the "fine-tuning" of the universe for life …

Facts can be special to a theory. That is, they can be special because of what we can infer from them. Fine-tuning shows that life could be extraordinarily special in this sense. Our universe's ability to create and sustain life is rare indeed; a highly explainable but as yet unexplained fact. It could point the way to deeper physics, or beyond this universe, or even to principles beyond the ultimate laws of nature.

Luke Barnes,"The Fine-Tuning of Nature's Laws" at The New Atlantis (Fall 2015)
Note: Astronomer Luke Barnes wrote a book with astrophysicist Geraint Lewis, for whom the multiverse beckons, A Fortunate Universe: Life in a Finely Tuned Cosmos.
See also: Another evidence-free whoop for the multiverse. Let's be clear here. We have evidence for fine-tuning in the only universe we know to exist. To argue against it, we must posit universes for which we have no evidence and maybe cannot ever have any evidence. This makes sense, WHY again? Isn't it all becoming a bit of a scandal?
Hat tip: Wintery Knight