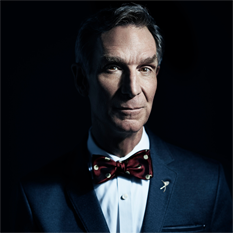 The way activists eat their own. From 500 Women Scientists at Scientific American:
Tonight, Bill Nye "The Science Guy" will accompany Republican Rep. Jim Bridenstine (R-OK), Trump's nominee for NASA Administrator, to the State of the Union address. Nye has said that he's accompanying the Congressman to help promote space exploration, since, he asserts, "NASA is the best brand the United States has" and that his attendance "should not be … seen as an acceptance of the recent attacks on science and the scientific community."
But by attending the SOTU as Rep. Bridenstine's guest, Nye has tacitly endorsed those very policies, and put his own personal brand over the interests of the scientific community at large. Rep. Bridenstine is a controversial nominee who refuses to state that climate change is driven by human activity, and even introduced legislation to remove Earth sciences from NASA's scientific mission. Further, he's worked to undermine civil rights, including pushing for crackdowns on immigrants, a ban on gay marriage, and abolishing the Department of Education.More.
Dear 500 Women Scientists: UD News is taking a pass on most of the politics you mention, so this only: Canada generally performs better than the United States in public education and we do not have a Department of Education. (We have other useless money pits, alas.)
Save your rage for something more worthwhile.
PS: No claim is made here that Bill Nye is a great guy. But this is not worth your effort, compared to the problems back at your desks.
See also: Bill Nye would criminalize dissent from human-caused global warming claims.
and
Marchin', marchin' for Science (Hint: the problems are back at your desk, not out in the streets)