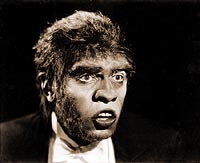 Man, this guy makes PZ Myers look calm, cool, and collected.
Click here to read this hilarious exchange between David Heddle and John Kwok on a typical "science" blog. It's funny until Kwok starts throwing ill-advised libels about. I wonder if Abbie "Potty Mouth" Smith will do him a big favor and flush this down the memory hole (in the words of Jerry Pournelle) "Real Soon Now".
Smithers, release the hounds.
And will someone PLEASE do Kwok a huge favor and give him an Amazon gift certificate redeemable for a thesaurus of his choice. I've never read anyone who needs one more than this raving lunatic.