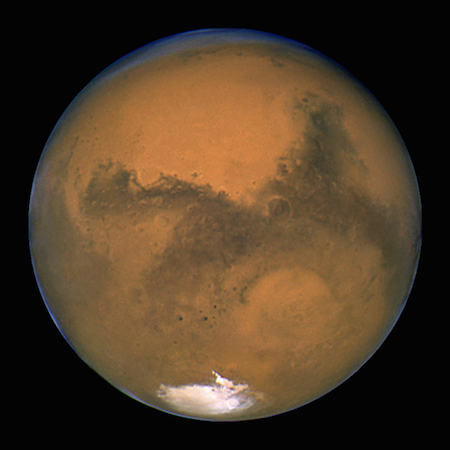 Here's an evergreen story for you, courtesy Seth Shostak from Search for Extraterrestrial Intelligence (SETI):
In the next decade or so, it's entirely possible that you'll see a headline announcing that NASA has found evidence of life in space.

Would that news cause you to run screaming into the street? An article that appeared recently in Britain's Sunday Telegraph hints that Jim Green, the director of NASA's Planetary Science Division, thinks the public might be discombobulated by the discovery of biology beyond the bounds of our own planet. But that's not really what Green believes. He's concerned that we haven't thought much about the next steps by scientists, should we suddenly confront the reality of Martian life.

Seth Shostak, "We may be closing in on the discovery of alien life. Are we prepared?" at NBC News
Actually, if you ask planetary scientist Gil Levin or our experimental physicist color commentator Rob Sheldon, they'll tell you we've already found evidence of fossil bacteria on Mars. Didn't notice anybody screaming in the streets about it either way though.
Life on Mars would be a lot of fun but one suspects it'll never live up to the hype.
See also: At Scientific American: We did find life on Mars in the '70s. Rob Sheldon weighs in Levin: When the Viking Molecular Analysis Experiment failed to detect organic matter, the essence of life, however, NASA concluded that the LR had found a substance mimicking life, but not life. Inexplicably, over the 43 years since Viking, none of NASA's subsequent Mars landers has carried a life detection instrument to follow up on these exciting results.
and, for the cultural background,
Tales of an invented god
Follow UD News at Twitter!