Karsten Pultz,, our honorary Danish correspondent, reviews a recent book by Ola Hössjer, Becoming a Christian: Combining Prior Belief, Evidence, and Will. The foreword is by J. P. Moreland.
---
Normally I would never buy a book written by a mathematician for the reason that I'm not a big mathhead myself and find it exhausting to try to grasp even the most basic concepts of mathematics. Recently though I made an exception and bought Becoming a Christian: Combining Prior Belief, Evidence, and Will by Swedish professor of mathematics Ola Hössjer and was glad I took the risk.
I had bumped into Hössjer, in a literary way, as one of the authors of the important work Theistic Evolution: A Scientific, Philosophical, and Theological Critique, a "must-have" for ID nerds. There, Hössjer co-authors a chapter on population genetics (arguing for an original couple) which involves statistical mathematics, his field of expertise.
Becoming a Christian: Combining Prior Belief, Evidence, and Will reveals that Hössjer is not only an excellent scientist who has done thorough research into many fields beyond his profession, but also a really good writer—and not at all boring, as I would have expected a mathematician to be.
Hössjer is one of the few important ID proponents from my side of the Pond (ID is still in its infancy stage in Europe). Because this book is written in English, it gives the English-speaking part of the world an opportunity to get acquainted with an ID proponent who, for once, is European.
The book takes the overapp approach of "Pascal's wager." The great scientist and philosopher Blaise Pascal viewed the worldview each one of us holds as a gamble, a gamble we are forced to participate in simply because we have been born into this world. Hössjer analyzes, from a completely cool and rational view, the pros and cons of whether to become a Christian. He uses purely rational arguments of the sort that would count if you were going to bet on a horse. For this reason, the arguments from intelligent design, both those of cosmological fine-tuning and design in biology, plays an important role in Hössjer's book.
We cannot know if Christianity is true, and if you haven't met Jesus face to face or experienced some sort of life-changing epiphany, you will have to base your choice of worldview on the evidence to which you have access. You'll have to take a critical look at the evidence for and against before you decide which worldview to put your money on. According to Pascal's wager, it's all about taking a cool decision and the coolest of all is, of course, to base your decision on mathematics. Very wisely, Hössjer has placed the pure math at the end of the book. If you happen to love math you'll probably be very excited about the seven appendices.
The book is a great read for all interested in ID, Christianity, and the connection between the two. It is also inspiring if you, like me, believe that the decision to become a Christian should be taken on rational grounds, should be based on evidence, and should feature the subtle awareness that it is a sort of bet.
---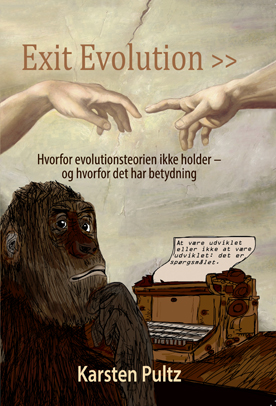 Karsten Pultz is the author of Exit Evolution.
See also: Denmark: Slowly Developing A Conversation About Design In Nature
Something Is Rotten In Something Is Rotten In The State Of Denmark
and
Denmark: Perhaps Not So Rotten After All