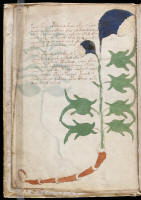 Remember the Voynich manuscript? Either utter nonsense or an unbreakable cipher or … ? Here it is online.
Ruth Graham tells us at the Boston Globe,
Studying it has been called 'academic suicide,' but an astonishing range of researchers have fallen under a mysterious document's spell
…
The most important contemporary question about the manuscript is whether its text is "real" or not. Broadly speaking, there are three possibilities: It was written in a so-far undiscovered language; it was written in a code corresponding to a known language; or it's a hoax written in a gibberish fake language. Few serious Voynichologists these days believe the script is written in an undiscovered "real" language, because it does not obey the rules of any other known languages: For example, one particular character appears only in the first lines of paragraphs. Most attention has focused on the notion that the manuscript is a cypher for a known language. Pelling, for example, believes it's most likely a 15th-century "encyphered book of secrets," similar to the handbooks of magic and medicine that would become popular in Italy in the 16th century. Over the years, people have guessed that the manuscript is written in coded Chinese, Welsh, Hebrew, or German.
And much else.
See also: Sat nite fun: Could the undeciphered Voynich manuscript be written in an extinct Mexican language?
Secret codes in written material
Sleep is for sissies.
Follow UD News at Twitter!