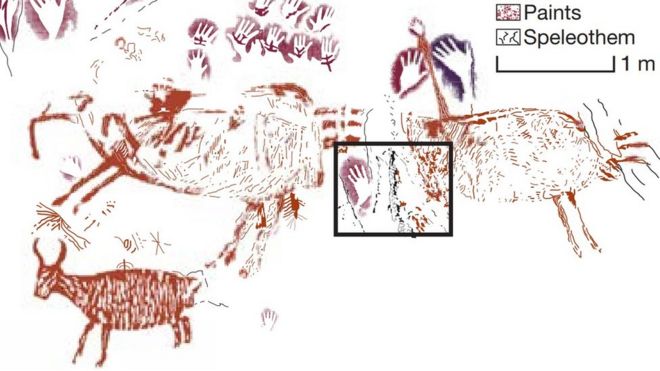 A thick-bodied animal in red ocher:
Researchers have found older man-made images, but these were abstract patterns, such as crisscrossing lines. The switch to figurative art represented an important shift in how people thought about the world around them — and possibly themselves. Carl Zimmer, "In Cave in Borneo Jungle, Scientists Find Oldest Figurative Painting in the World" at New York Times
We actually don't know that there aren't older painting (or newer crisscrossed lines). This one was only just found.
The caves contain thousands of other images, including hand stencils, animals, abstract signs, and symbols:
The animal appears to have a spear shaft stuck in its flank and is one of a series of similar red-orange coloured paintings, which were made with iron-oxide pigment. Paul Rincon, "'Oldest animal painting' discovered in Borneo" at BBC
A paper published in Science earlier this year discusses cave art from 65,000 years ago, possibly made by Neanderthals:
Abstract
The extent and nature of symbolic behavior among Neandertals are obscure. Although evidence for Neandertal body ornamentation has been proposed, all cave painting has been attributed to modern humans. Here we present dating results for three sites in Spain that show that cave art emerged in Iberia substantially earlier than previously thought. Uranium-thorium (U-Th) dates on carbonate crusts overlying paintings provide minimum ages for a red linear motif in La Pasiega (Cantabria), a hand stencil in Maltravieso (Extremadura), and red-painted speleothems in Ardales (Andalucía). Collectively, these results show that cave art in Iberia is older than 64.8 thousand years (ka). This cave art is the earliest dated so far and predates, by at least 20 ka, the arrival of modern humans in Europe, which implies Neandertal authorship. More.
Follow UD News at Twitter!
See also: Human evolution: Ancient art not really symbolic, cognitive scientist claims
and