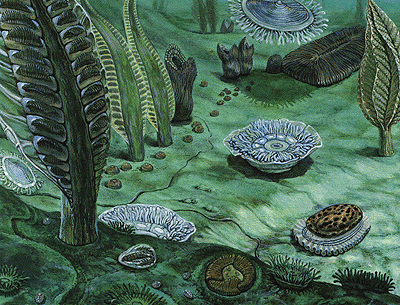 A new paper has just been published in Nature by Gregory J. Retallack of the University of Oregon. The paper argues that the Ediacaran fauna are not ancestral to the animals which arose in the Cambrian explosion and that life existed on land 65 million years before previously thought. Retallack further argues that the iconic fossils of Dickinsonia and Springgina, which appear in the Precambrian Ediacaran assemblages, were not in fact animals at all. Rather they were, according to Retallack, lichens, soil structures and traces of slime moulds.
The paper reports,
Newly documented palaeosols in the Ediacara Member of the Rawnsley Quartzite in South Australia now call for a re-evaluation of its famous fossils, widely considered evolutionary predecessors of the Cambrian explosion of marine animal phyla. Ediacaran red beds of South Australia (Figs 1 and 2) were initially considered non-marine by Douglas Mawson and Ralph Segnit. When Mawson's student Reginald Sprigg discovered and interpreted South Australian Ediacaran fossils as marine jellyfish, this palaeoenvironmental contradiction was resolved by a compromise interpretation of jellyfish thrown up onto tidal flats by storms. Ediacaran fossils are known worldwide in a variety of sedimentary facies, generally interpreted as shallow to deep marine, following Sprigg's comparison with marine animals, although such comparisons now seem increasingly doubtful. Most Ediacaran fossils have no clear relationship with modern animals. Putative Neoproterozoic 'embryos' were more likely to have been protists. Putative permineralized metazoans may instead have been crystal-lined vughs, and other permineralized Ediacaran fossils were red algae or glomeromycotan lichens. Precambrian shallow trails may have been made by slime moulds in their slug aggregation phase rather than worms. There have also been suggestions that Ediacaran fossils were giant protists, such as xenophyopores, or fungi, such as lichens [internal citations omitted].
An article in Nature News further comments,
The latest study proposes that rock in the Ediacara Member in South Australia — where palaeontologist Reginald Sprigg first discovered Ediacaran fossils in 1947 — represents ancient soils, and presents new geological data. Among other lines of evidence, Retallack argues that the rock's red colour and weathering pattern indicate that the deposits were formed in terrestrial — not marine — environments.

Under this hypothesis, Retallack recasts Dickinsonia and Spriggina as lichens and suggests that trails attributed to Ediacaran worms actually indicate slime-mould growth. In place of a sea bed, Retallack says that he sees a terrestrial environment similar to the Arctic tundra, with large organisms present "in greater diversity than life in the ocean" at the time.
Another Nature News article stated,
Perhaps the only point of agreement is that, whatever else they were, the Ediacarans lived on the sandy beds of shallow, sunlit seas. This is where Retallack parts company with just about everyone else, because some of his Ediacaran palaeosols are associated with Ediacaran fossils. This would mean that at least some Ediacarans lived on land, under the sky, perhaps in the manner of lichens, or microbial colonies that form soil crusts. The Ediacarans, then, would be the now-not-so-rare (and not at all mythical) creatures that first colonized the land — not just in puddles, but in soils indicative of a dry, cold desert. This is as far away as imaginable from the oceanic idyll that many have assumed for Ediacaran organisms, and have reconstructed as such in a million coffee-table books.
Why is this paper significant? At Science Daily, the author is quoted as explaining that "This discovery has implications for the tree of life, because it removes Ediacaran fossils from the ancestry of animals." If these Ediacaran fossils are not ancestral to the animals that appear so explosively in the Cambrian (a position held by others in the field), then those who hold true to the neo-Darwinian paradigm have very little left to cling to. Darwin's dilemma remains.