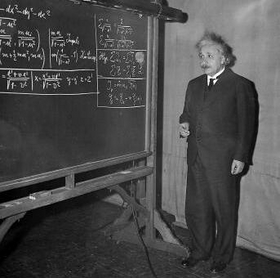 Canada's Mark Steyn, in conversation with Hugh Hewitt, here:
HEWITT: I've got to begin this Thursday as I do when we are lucky with columnist To the World, Mark Steyn. … Mark, the biggest news of the day comes out of Geneva in Italy, where the CERN scientists have announced they've discovered a particle that is faster than the speed of light. I suppose this will be useful in measuring market drops, but it also says it would, "undermine Albert Einstein's 1905 theory of special relativity, which says the speed of light is a cosmic constant, and nothing in the universe can travel faster." Very unnerving, Mark, when you start the day knowing that Einstein was wrong?
MS: Yeah, I thought, what's the line, the science was settled.
HH: (laughing)
MS: The science was settled. It's odd the way science is never settled, really, in that sense. And it's interesting, I mean, I find that fascinating, because obviously, there's a scientific consensus on all kinds of things, and then some non-consensual scientist comes along and blows the thing out of the water.
Which is what sets science apart from many worthy enterprises:
… when a scientist, of all people, stands up at one of these climate change conferences and says the science is settled, and calls people who disagree with him deniers, that man is not a scientist. That man is a member of a religious cult. He's worshipping at the temple of Al Gore or whatever, and that's fine if he wants to do that. But when a man stands up and says the science is settled, he is everything but a scientist.
One way of seeing this: It's one thing for a religion to proclaim, say, that having more than one wife is wrong. And to say that the subject is not up for further discussion. All that really means is that if you want to be a believer in good standing, you do not have more than one wife. And if most people in a given society agree with the religion on that point, you probably won't be able to do so legally.
It's another thing for a scientist to come along and say that his opinion, on reading a set of data is "settled science." It does essentially make science a religion. It's the difference between evolutionary biology and Darwinism.
Follow UD News at Twitter!