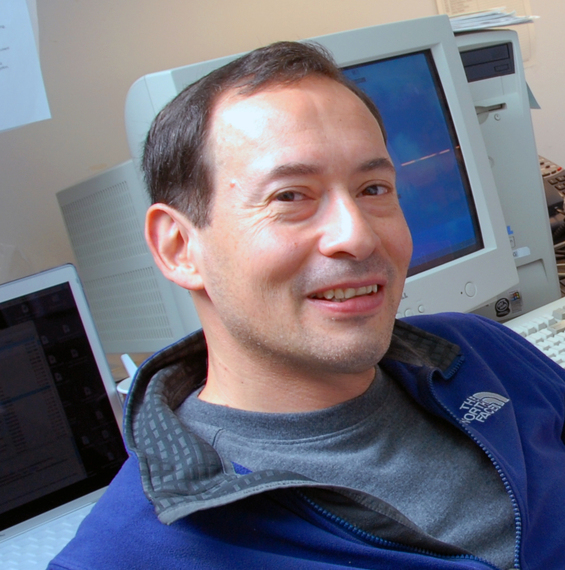 At Huffington Post, Suzan Mazur interviews neuroscientist David Edelman on Paradigm shift "YES)"and origin of 3D organismal form":
Neuroscientist David Edelman, who's currently on the faculties of the University of San Diego and the University of California, San Diego, and is the son of late Nobel laureate Gerald Edelman, says he agrees that an evolution paradigm shift needs to happen.
Driver, this is our stop. Can we get out now? Anyway,
Suzan Mazur:  … From your perspective as a neuroscientist, is there a paradigm shift underway in evolutionary thinking?
David Edelman: I think there should be a shift. . . . The Modern Synthesis was a scientific reckoning — or coming to terms — among great thinkers: George Gaylord Simpson, Ernst Mayr, JBS Haldane, Theodosius Dobzhansky, to mention some of the key players. They had noble aspirations, but there was a problem in that a very determinist point of view reigned among geneticists, and genetics was an important part of the argument being made by the neo-Darwinians. They had what they thought was the basis for heritability. They thought that essentially it was all going to be gravy at that point, that they could merge the fields of natural science and genetics, using genetics to explain both heritability of individual traits and the appearance of higher taxa — new species, families, genera, etc. They were way off base at the time. I don't think they knew just how far off base they were.

The big question right now is whether their heirs and successors even want to know. Or do they just want to shore up their shrinking basis of authority, by any means necessary? Darwinism has been good for them, if not for biology.

Edelman: There's an intellectual crisis in modern biology. A hyper-determinist streak runs through the thinking, particularly in molecular biology and genetics. Even if researchers can't get directly from DNA code to a 3D organism, they believe essentially that it's simply a coding problem.

It's actually more complex. The problem is that we cannot observe a lot of processes in sufficient detail and at all the necessary levels of interaction — either during individual development or across evolutionary time. And these processes are messier than we believe. Right now, we can't infer processes in a systematic way regarding the relevant levels of morphological change. We don't have the capacity to do that yet.

We may never have the capacity for complete knowledge. That would require a knowledge base that duplicates all information in the system—possible but not useful. Knowledge bases derive laws and principles instead. Edelman seems to be saying, correctly, that we do not really know how key development principles work as yet, either in an individual organism or over time.

Edelman My own scientific career, which is very checkered — I trained as a human paleontologist, I did a postdoc in gene transcriptional regulation, and then I moved on to cellular neurobiology and eventually to problems of higher brain functions — specifically the evolutionary origins of consciousness and its nature in non-human animals. What I'm saying here is that a lot of things have exerted influence on the trajectory of life.

I also think it's in the nature of trained Western scientists to look for a big breakthrough answer. We scientists tend to admire the mechanistic reduction of classical physics. What my dad used to call a case of "physics envy." We'd love the biological world to cooperate in the same way that the atom and everything else scaled up to the atom behaved prior to Einstein, prior to 20th century physics. For the world to be reducible in a very mechanistic way. I am leery of this conception because biology defies it at every turn. More.

Yeh. Life forms do not do what biologists tell us we are supposed to. Whatta bitch.

But stay tuned. Maybe this guy is someone we can talk to.

Note: Suzan Mazur is the author of The Origin of Life Circus, a series of interviews with key origin of life thinkers—much recommended by the News desk here for providing an airhead-free/bimbo-free look at the evidence.

See also: Why origin of life is both a difficult and central problem

Follow UD News at Twitter!