Karsten Pultz sends us this report: A Norwegian shipping chief has recently donated 15 million Nkr (1.6 million US $) to support the promotion of intelligent design. The money has gone into a foundation, BioCosmos, where individuals and organisations (primarily in Norway) can apply for support to projects like developing teaching material, publishing books, holding conferences, and anything else related to promoting the ID-hypothesis, especially among young people.
The generous Norwegian behind the foundation, engineer Einar Johan Rasmussen, is quite sure that the theory of evolution does not hold all answers to life's origin, and having read about ID he feels that life is not a product of blind chance. He hopes that the foundation will make it possible for more people to be able to question what they have been taught so far.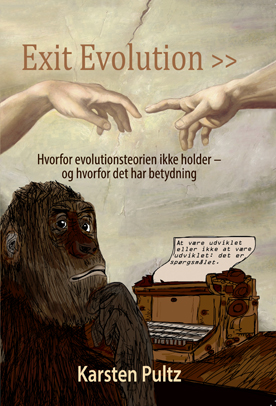 Head of the foundation is Tromsø university professor Steinar Thorvaldsen who in 2013 together with Danish professor Peter Øhrstrøm authored the peer-reviewed paper, Darwin's Perplexing Paradox: Intelligent Design in Nature. Thorvaldsen is also head of the Norwegian branch of Origo, an evolution-critical magazine and publishing company, a collaboration between Danish and Norwegian evolution sceptics and ID proponents.
Origo has previously published translations of Icons of Evolution by Jonathan Wells and Undeniable by Douglas Axe. Currently, it has one translator working on Lee Spetner's The Evolution Revolution and two others working on Michael Behe's Darwin Devolves. The latter will be available in both Norwegian and Danish.
With this new foundation ID will get a significant boost. In the Scandinavian countries we are used to the fact that everything to do with education is tax-funded and state-run. This makes it difficult to convince people that there are important areas of research and education that need support from private sources.
As we all know tax money are only going to support mainstream science, so ID is depending 100 % on private funding, BioCosmos will be the first group to really make a difference in that regard. This wonderful news come on the heels of the just as wonderful news about the opening of the ID centre in Austria, Zentrum für Biokomplexität und NaturTeleologie. Although the Austrian centre focuses on the German-speaking areas, it is also meant to function as a common European ID institute. I'm happy to say that a promising collaboration between the Nordic countries and Zentrum für BioKomplexität has already been established.
It seems there are good reasons to be optimistic about the future for ID. Although we are under attack from theistic evolutionists, atheists and even young earth creationists, ID is slowly but surely getting traction in the Old World.
Pultz is the author of Exit Evolution.
---
More from Karsten Pultz and Denmark:
Karsten Pultz: The Perils Of Talking About ID He Wonders, Should He Give Up? (Um, not just now, Karsten – the Uncommon Descent Virtual Coffee Room)
Educating Oneself Away From Science Denial: Two True Stories
Denmark: Slowly developing a conversation about design in nature
Something Is Rotten In The State Of Denmark
Denmark: Perhaps Not So Rotten After All
and
Swedish Mathematician Explains Why He Sees Design In Nature (And Became A Christian)