(Danish ID proponent Karsten Pultz reflects on the conflict.)
As usual, I felt seriously annoyed and slightly depressed after giving a talk about ID in a Christian setting, and I spent the next one and a half days pondering what had gone wrong.
Having recently read The Master and His Emissary: The Divided Brain and the Making of the Western World by British psychiatrist Iain McGilchrist, I suddenly realized I had a tool to dissect my frustrations around these talks.
As a proponent of ID, I very much feel I represent a scientific theory which points to very important empirical facts we need in order to establish a realistic worldview, but that those facts are few and that ID leave us with a lot of unanswered questions. Fortunately, I find that very satisfying because I like to think for myself, I'm not troubled by unanswered or unanswerable questions nor am I afraid of being wrong and being placed in a situation where I need to adjust my understanding and point of view on some issues. I have learned from McGilchrist that this is a trait of people who are dominated by the right brain hemisphere.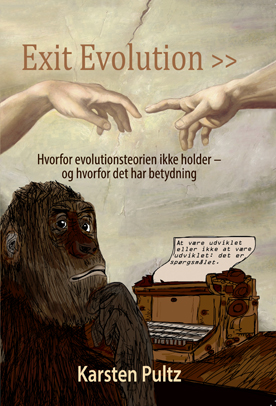 I realized that the world seems to consist of different tribes who primarily seek information that can feed their confirmation bias. Because confirmation bias is situated in the left hemisphere it follows that this tribal behavior is largely due to left hemisphere domination. ID is bad news for people who want a fully packaged worldview served on a silver plate which leave them with no need to think for themselves, – and this is where the dog is buried.
In Denmark, 85 % of the population believes in evolution as a proven fact. This 85% can be split into two groups, atheists and theistic evolutionists. We also have 10 % Muslim migrants and finally 5 %, among whom we find the creationists, I assume most creationists are the Young Earth type.
The ID-talk I gave was to an audience of evangelical Christians and judging from the questions I got, probably most of them were Young Earth Creationists.
So what's the problem here? Well, the atheists think I promote creationism because anyone who thinks there is evidence for design in organisms is by definition a creationist, and naturally, therefore, a moron. The theistic evolutionists also think I'm a creationist. Being a Christian myself, I give Christianity a bad name by exposing my moronic belief that evolution is wrong. The Muslims do not want to listen to me because I'm an infidel. Thus, the only audience I can get is to be found among the small fraction of Danish creationists.
Now then, speaking to creationists about ID should be enjoyable; after all,it ought to be water in their mill. But no, it is not. Creationists, like the atheists and the theistic evolutionists, belong to a tribe, a tribe with strict rules that tell what you can and cannot believe. Their worldview is a complete package, like that of the atheists and TE people who also have their complete worldview packages. ID does not feed their confirmation bias sufficiently, so they regard ID as suspicious, inadequate, or simply as a theory that they consider an enemy of creationism.
Again I stood there with an audience who insisted on discussing the age of the earth, six days creation, the Flood and other issues I do not want to touch on them because they lie outside the realm of detecting design in nature. Again I found myself forced to take stands on topics I find no empirical evidence for and likely to compromise my intention of keeping strictly to empirical data and the design inference.
Atheists, theistic evolutionists, and creationists act like if they were political parties where you either submit to the ruling dogmas or you leave the party. This is no wonder because dogmatic thinking is situated in the left hemisphere, which can only relate to and accept already acquired knowledge. A tribe will therefore primarily be excited when listening to a lecture given by one who agrees on every dogma approved by the tribe. Anything that falls outside the tribal dogmas is off-limits because it challenges the left hemisphere's desperate need for only having served confirmation of what it already has accepted. Left hemisphere thinking is also characterized by the need for absolute control, which means that unanswered or unanswerable questions must under no circumstances exist. The left hemisphere would rather make stuff up than accept that there are things we cannot know—so you better tell us that the earth is 6000 years old, or we might panic!
So ID is bad news for people of a variety of views who suffer from severe left hemisphere domination, and there is nothing I can do about it. I can't force people of any tribe to love what they hate, namely being challenged on their full package worldview. I am seriously considering abandoning giving ID-talks in Christian settings, as it seems completely purposeless and because I find it exhausting, depressing and frustrating. While atheists and theistic evolutionists reject ID because they consider it creationism, the creationists reject ID because it is not creationism. This leaves me with only one open-minded listener – my wife.
---
More from Karsten Pultz and Denmark:
Educating Oneself Away From Science Denial: Two True Stories
Denmark: Slowly developing a conversation about design in nature
Something Is Rotten In The State Of Denmark
Denmark: Perhaps Not So Rotten After All
and
Swedish Mathematician Explains Why He Sees Design In Nature (And Became A Christian)