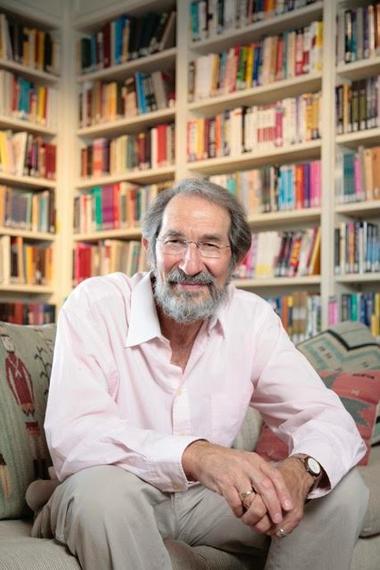 Physicist Geoffrey West in an Suzan Mazur at Huffington Post:
Suzan Mazur: Do zoologists own the evolution discussion?
Geoffrey West: To a large extent the answer is yes they do own it, and they have to some extent cornered the market. They believe, perhaps rightly so, that they have all of the expertise. But clearly, other areas of biology, and also other sciences such as physics, chemistry and computer science should be an integral part of the conversation. The upcoming Royal Society meeting on evolution that you've been writing about, which has eminent biologists and philosophers represented, basically has almost no scientists from the hard sciences, which is where some of the important answers and insights are potentially going to come from.
A major conceptual challenge is the question of the origins of complexity in the universe that we need to understand before we can truly understand the origins and laws of life:
How does something so simple as the laws of physics produce something so complex? How does that happen? What are the mechanisms that give rise to that?
Most importantly, what are the underlying principles that augment, whether you believe in it or not, the principle of natural selection? Those are questions where having a dialogue with physicists — especially physicists who have thought about complex adaptive systems — could be quite productive.
Suzan Mazur: Do you have any plans to attend the Royal Society evolution meeting?
Geoffrey West: I don't. And I haven't seen the official list of speakers, but I'm disappointed that physicists, or chemists and computer scientists, aren't represented. I like the idea that there are philosophers speaking though because hopefully they would have thought deeply about some of the questions of evolution. More.
Of course, one difficulty is that in order to understand the origin and development of life over time we need to understand the origin of information.
Information, which principally differentiates life from non-life, is not matter or energy. What is it? How does it relate to matter and energy?
The reigning theory among zoologists is that such a discussion is unnecessary. Darwinism (natural selection acting on random mutation generates huge levels of information, not noise). That clearly isn't tenable and is fuelled mainly by zeal. So, if zoologists dominate, the Royal Society meet will just be an expensive waste of time.
It all reminds one of sociologist Steve Fuller's comment that Darwinism is now in the same mess that floored astrology.
Not only isn't current theory correct, but apparently no useful work can take place under its dominance. Pity. Someone someday will need to do that work.
Here's Part 1 of the series.
Suzan Mazur is author of The Paradigm Shifters: Overthrowing "the Hegemony of the Culture of Darwin"
Follow UD News at Twitter!