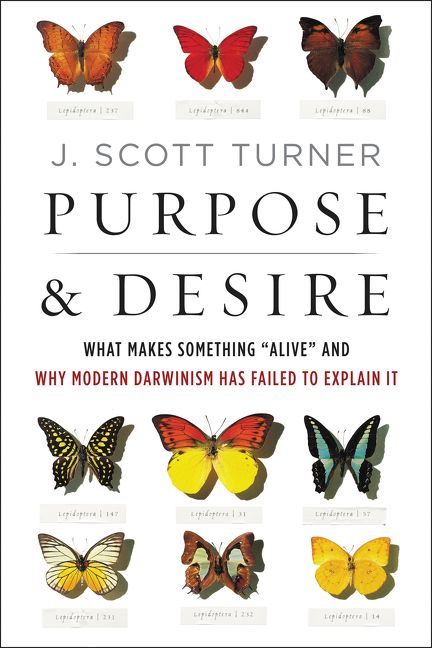 A lot of people are now reading Scott Turner's Purpose and Desire:What Makes Something "Alive" and Why Modern Darwinism Has Failed to Explain It, and one of them is retired linguist Noel Rude (Native American languages).
Turner's challenge to Darwinism is the fact that life shows internal purpose, which cannot be accounted for by the mere declaration that it evolved in order to do so.
Rude reflects,
Someone ought to write a book titled, let me suggest, "Materialism and its Dissidents." 
Having recently read J. Scott Turner's "Purpose and Desire," I'm reminded of what a fellow linguist used to call "Aristotle's anima."  An ardent Darwinist, he nevertheless would tell me that Darwinism couldn't work without the desire to live–something no completely materialist machine can duplicate.  Once (we were in Mexico) he pointed to a dog and said, "That dog is not a machine." 
Lee Smolin would weaken materialism by bringing time back into the picture, this to allow for agency (ordinary folks do not know that physics has abolished time and free will, even though Darwinism needs lots of time and chance).  Then there is Thomas Nagel's teleology, Michael Denton's directed evolution, and James Shapiro's natural genetic engineering–and not to forget Rupert Sheldrake's morphic resonances.  Sheldrake says the term was used by the vitalists, just as Turner says of his emergent homeostasis.  Sheldrake's connection to the New Age movement might dissuade some from his insights, and theologians uncomfortable with time may balk at Smolin.  Nevertheless, all these are prominent materialists who have adjusted the doctrine variously to accommodate purpose and desire and agency.
Another friend suggests adding Denis Noble's Dance to the Tune of Life – biological relativity (2017), which brings teleology and Aristotle's final cause back into biology.
A third reminds us that Stephen Talbott, Thomas Nagel, James Shapiro, Perry Marshall, and Gerd Müller are also offering serious challenges to Darwinism.
Yes, Ruse's claims are last week's toast but, let's face it, in an increasingly sclerotic academic environment, that actually doesn't matter until enough people understand what is changing. Any of the authors/books mentioned may be a good place to begin.
Can readers suggest others?
See also: Darwinian philosopher asks: Do we need purpose in biology? Ruse: "The answer is natural selection." Of course, because Darwinism has become a fundamentalism and fundamentalisms always have one answer and always the same one: Natural selection explains why a live cat tries to stay that way while a boulder degenerates, absent any purpose, into sand.
and
J. Scott Turner on why we do not have a coherent theory of evolution… The concepts of agency, purpose, and intentionality are not problematic for life as we know it. We cannot observe life without noticing them. But discussing them is deadly to naturalism, as we can see from the incoherent ways by which naturalism (nature is all there is) attempts to cope with them.