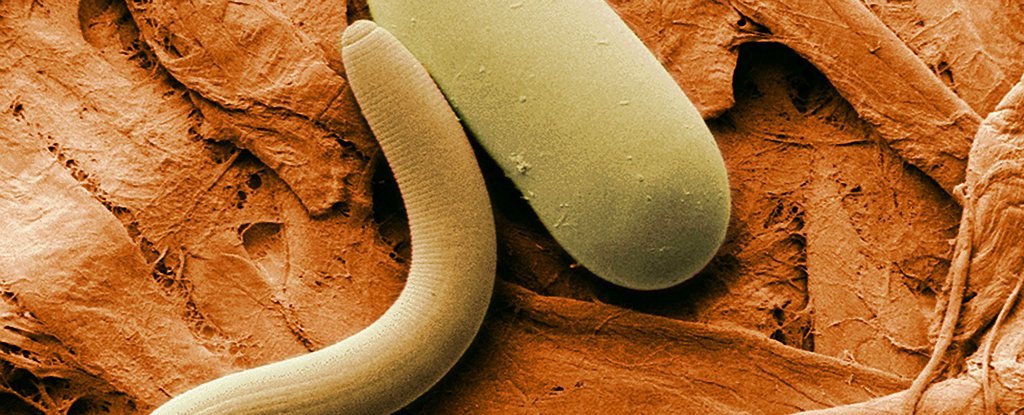 Yesterday, we talked about the worm that survived the space shuttle blowup and the water bears in space, in relation to the question of whether early life forms night have ended up on the moon briefly, back when the solar system was rather soupy. And now we hear this:
In Siberia, melting permafrost is releasing nematodes — microscopic worms that live in soil — that have been suspended in a deep freeze since the Pleistocene. Despite being frozen for tens of thousands of years, two species of these worms were successfully revived, scientists recently reported in a new study.
…
Though nematodes are tiny — typically measuring about 1 millimeter in length — they are known to possess impressive abilities. Some are found living 0.8 miles (1.3 kilometers) below Earth's surface, deeper than any other multicellular animal. Certain worms that live on an island in the Indian Ocean can develop one of five different mouths, depending on what type of food is available. Others are adapted to thrive inside slug intestines and travel on slimy highways of slug poop.Mindy Weisberger, "Worms Frozen for 42,000 Years Come Back to Life" at RealClear Science
They were able to move and eat. The worms that survived the shuttle blowup were nematodes too. Whatever the case turns out to be re the Moon, we should not underestimate life forms' ability to find ways to somehow survive.
See also: Might we find evidence of past life on the Moon? It really depends on how long ago life got started here whether some microbial life could have been trapped on the moon and survived a while. The sagas of the worm that survived the space shuttle blowup and the water bears in space should warn against too-hasty dismissal.
Is that Mars lake way too salty for life? Yes, in Hugh Ross's expert view. The news copy around life on Mars generally sounds as though it is written for people who have an emotional need to believe that there is life on Mars, whether there is or not. Call it a specialized version of the Drake Equation. The last place to look for reasonable skepticism often turns out to be science writing.
But if we don't find life on either Mars or Europa… … are we justified in drawing the conclusion that life is just not very common in the galaxy and that we are special? As opposed to They Must Be Out There Somewhere, experienced as an act of faith? What makes that act of faith "science"?