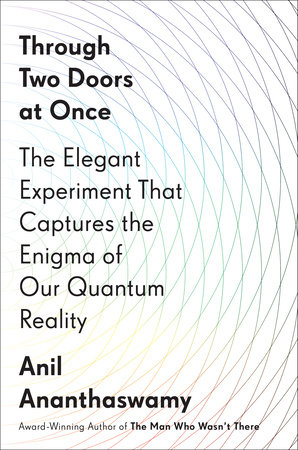 In a review of science writer Anil Ananthaswamy's Through Two Doors at Once: The Elegant Experiment That Captures the Enigma of Our Quantum Reality, science writer Philip Ball captured the essence of the sheer oddity of quantum mechanics:
What's odd is that the interference pattern remains — accumulating over many particle impacts — even if particles go through the slits one at a time. The particles seem to interfere with themselves. Odder, the pattern vanishes if we use a detector to measure which slit the particle goes through: it's truly particle-like, with no more waviness. Oddest of all, that remains true if we delay the measurement until after the particle has traversed the slits (but before it hits the screen). And if we make the measurement but then delete the result without looking at it, interference returns.

It's not the physical act of measurement that seems to make the difference, but the "act of noticing", as physicist Carl von Weizsäcker (who worked closely with quantum pioneer Werner Heisenberg) put it in 1941. Ananthaswamy explains that this is what is so strange about quantum mechanics: it can seem impossible to eliminate a decisive role for our conscious intervention in the outcome of experiments. That fact drove physicist Eugene Wigner to suppose at one point that the mind itself causes the 'collapse' that turns a wave into a particle.
Philip Ball, "Two slits and one hell of a quantum conundrum" at Nature
Ball spends the rest of the review backing away from the implication that the mind is real but, that said, his is a good summary and he ends by recommending that pluralism is currently well-advised: "For now, uncertainty seems the wisest position in the quantum world."
See also: Quantum physicist David Bohm on why there cannot be a Theory of Everything
Researchers clearly observe quantum effects in photosynthesis
Inspiring Philosophy on quantum mechanics and the death of materialism
and
Is the search for meaning in quantum physics a form of religion?