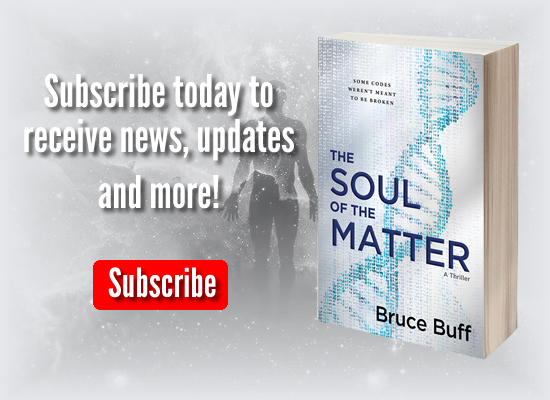 Offered by author Bruce Buff via Evolution News & Views:
For months, he and Alex Robertson had spent a nearly continuous stream of long nights toiling in secret, trying to crack what had to be the most extraordinary encryption ever devised. What they had encountered should have been unbreakable.
It was remarkable that, through a series of astounding discoveries, they had gotten as far as they had, only to be stymied by a final puzzle that had defied solving.
It was even more remarkable that the answer to hat last obstacle had suddenly come to him this morning. Realizing the implications of what they were about to obtain, he had decided to wait until he was certain what it would reveal before sharing his breakthrough with Alex. More.
Outline for Soul of the Matter:
A scientist's claim that he's found the secrets of the universe's origin encoded in DNA sparks a race against time to uncover the truth in this fast-paced thriller of science and faith, power and murder, loss and redemption.
Dan Lawson, a former government cyber-intelligence analyst, is surprised to be contacted by his estranged friend Stephen Bishop, a renowned geneticist. Stephen says that he's discovered amazing information within DNA, including evidence of a creator, and needs Dan's help to protect his findings. Dan is skeptical and wonders whether he is being manipulated, or if the recent illness of Stephen's only child, Ava, has caused his childhood friend to fall back on religion for answers to questions best left to science. Spurred by his desire for proof that life has meaning, however, Dan puts aside his doubts and agrees to help.
When an experiment goes terribly awry, Dan realizes he must get to the bottom of Stephen's discoveries. With the help of Trish Alighieri, a pediatric oncologist trying to save Ava's life, Dan desperately searches for answers—including whether the human soul can survive science's conquest of nature. ( Audio)
Fro Evolution News & Views editor David Klinghoffer's review,
To observers in the media and academia, ID is a bogeyman, to be slyly conflated with the deplorable "creationism." To the most rigid evolutionary biologists it's the monster under your bed at night, that stalks you in the departmental office building by day. To some thoughtful scientists and philosophers, it's a challenge and a cause of rumination, not welcome, for sure, but not to be dismissed either.
As of today, ID is also something else that I wouldn't have predicted: the main theme and dramatic backdrop of a pretty effective and tense thriller by debut novelist Bruce Buff. Following the adventures of ex-CIA officer turned computer hacker Dan Lawson and eerily compelling pediatric oncologist Trish Alighieri, Mr. Buff's The Soul of the Matter (Simon & Schuster/Howard Books) expertly invokes a range of ideas — including irreducible complexity, the Cambrian explosion, the enigma of protein evolution, and the malign illusion of a "transhuman" future.
Imagine Dan Brown meets Stephen Meyer meets Wesley J. Smith and you'll have an idea of what's in store for readers. A turning point in the story involves a visit to Seattle's Pioneer Square and, yes, Discovery Institute. If Mr. Brown's knockout The Da Vinci Code were to be rewritten from a design perspective with the combined insights of Doug Axe, Michael Behe, and Jonathan Wells, you would have something like Mr. Buff's impressive book. More.
See also: Just use more of your brain and you'll evolve? Says movie.
Follow UD News at Twitter!