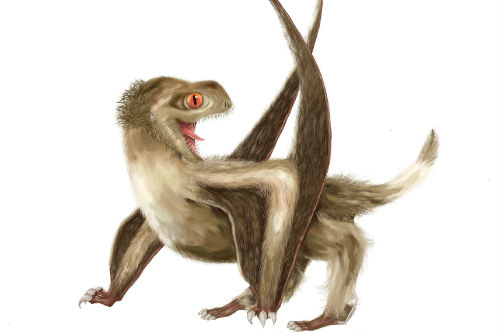 Researchers hope that their findings will change how we look at dinosaurs, birds, and pterosaurs, the flying reptiles:
The key discovery came earlier in 2019, when feathers were reported in pterosaurs – if the pterosaurs really carried feathers, then it means these structures arose deep in the evolutionary tree, much deeper than at the point when birds originated… Co-author, Baoyu Jiang from the University of Nanjing, added: "At first, the dinosaurs with feathers were close to the origin of birds in the evolutionary tree.

"This was not so hard to believe. So, the origin of feathers was pushed back at least to the origin of those bird-like dinosaurs, maybe 200 million years ago."

Dr Maria McNamara, co-author from University College Cork, said: "Then, we had the good fortune to work on a new dinosaur from Russia, Kulindadromeus.

"This dinosaur showed amazingly well-preserved skin covered with scales on the legs and tail, and strange whiskery feathers all over its body.

"What surprised people was that this was a dinosaur that was as far from birds in the evolutionary tree as could be imagined. Perhaps feathers were present in the very first dinosaurs." …

"So, the dinosaurs, pterosaurs and their ancestors had feathers too. Feathers then probably arose to aid this speeding up of physiology and ecology, purely for insulation. The other functions of feathers, for display and of course for flight, came much later." "Feathers came first, then birds" at University of Bristol
Maybe those 200 mya feathers were just for insulation. But maybe there are more surprises yet. Marcos Eberlin is probably right. Evolution has Foresight. 😉
Paper. (paywall)
See also: Feathers Originated 70 Million Years Earlier Than Thought
and
Stasis: Life goes on but evolution does not happen
Follow UD News at Twitter!