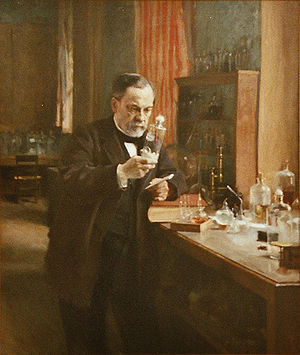 One of the smaller mysteries of life is that it is built out of asymmetric building blocks. The amino acids that are chained together to make proteins are asymmetric, as are the sugars that are chained together to make starch, cellulose, and other useful polysaccharides. The standard way to show this, is by making a solution of the specific molecule, shining polarized light through it, and demonstrating that the "plane of polarization" has rotated. Those that rotate the light counter-clockwise are "left-handed" and those that rotate it clockwise are "right-handed". Using the letters "l" for left, and "d" for right, we now can label the mirror-image molecules with their appropriate chirality. (The amino acids are labelled L or D not by their rotation of light, but by their chemical synthesis from l- or d-glyceraldehyde. All L-amino acids do not rotate light the same direction, but they can all be derived from l-glyceraldehyde.)
A science fair project that deeply impressed me as a junior high student, was to take two plane polarizers (such as those found in sunglasses) and put different thicknesses of ordinary cellophane tape in between, by taping it to a clear sheet of acrylic (overhead transparency for those old enough to remember). Each thickness of tape (D-sugar!) would rotate the light more, and when viewed through "crossed" polarizers, different colors would appear as if by magic. The explanation was even more magical, and I spent an hour or more playing with tape and polarizers.
Evidently, this also impressed chemists in the early 1800's, since inorganic crystals did not show these colors. They took this as evidence of one more way that living things were different from non-living things–they turned colors under polarized light, as well as multiplied, fermented, decomposed, and otherwise did miracles with common substances. Which is why they separated "inorganic" from "organic" chemistry. Darwin, of course, refused to acknowledge any separation between organic and inorganic chemistry, and this intransigence has plagued his theory ever since.