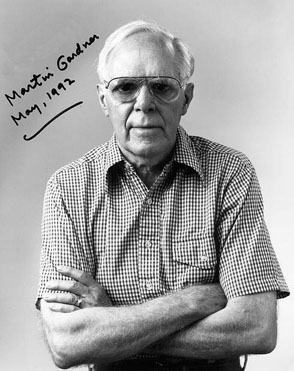 The enormously influential mathematics and science writer, skeptic, and encourager of many, Martin Gardner, has died at the age of 95. I came to know Gardner through a mutual friend, the late science writer and skeptic Bob Schadewald (1943-2000), who occasionally visited Gardner at the latter's home in North Carolina. [Here's a tiny but relevant fact that shows the surprising reticulations of the science-and-theology debate in America. During one such visit, Gardner gave Schadewald much of the contents of his library, which he found had grown unwieldy. Then, years later, following the devastating fire that destroyed nearly all of YEC paleontologist Kurt Wise's library, Schadewald packed much of his personal library into boxes to send to Kurt. Schadewald died a few days later, at nearly the same time his books arrived at Kurt's home in Tennessee. Kurt unpacked the books, carefully wrapped in tissue, in tears, knowing that the person who sent them had just died. So, chances are, at least some of Martin Gardner's personal library now resides with Kurt Wise. Go figure.] Schadewald told Gardner about this crazy YEC philosophy of science graduate student he knew, at the University of Chicago, and in response, Gardner sent back a letter to me.
He wanted to know if Adam had a navel. (More about that below.)
It is not generally known that Gardner grew up as a Christian fundamentalist in Oklahoma, and indeed entered the University of Chicago as an undergraduate zealous to defend his faith, and to return America to its Christian heritage:
In his adolescent fantasies he saw himself as chosen by the Lord to lead this new awakening. And to carry out this stupendous undertaking he conceived a brazen plan….He would enter the very citadel of the enemy. He would master all the science and modern learning that a great secular university had to offer. Every false and infernal argument would be examined and exposed. He would probe the diseased heart of twentieth century theology, dissect it nerve by nerve, artery by artery.
The passage comes from Gardner's autobiographical novel, The Flight of Peter Fromm (1973), which Bill Dembski has used as a textbook in seminary courses he's taught. While Gardner's fundamentalist Christianity died a long and painful death, his theism never did. See his fascinating and utterly readable The Whys of a Philosophical Scrivener (1983), where Gardner vigorously defends his fideistic conception of God, as well as his belief in the efficacy of prayer, and personal immortality.
It's hard to say where Gardner would have stood in the current New Atheists versus Accomodationists debates. While he loathed woolly-minded, fuzzy and imprecise thinking, suspecting it of concealing (deliberately, perhaps) deep confusions — and such thinking is much on display among many defenders of "theistic evolution" — he also disdained the imperialistic and often inhumane reductionism of scientific materialism. I like to think, if Gardner had been found the strength for another decade, or two, of writing and thinking, he would have drafted a book challenging the New Atheists. Heck, why not. He refused to fit into anyone's categories.
In the mid-1980s, when Gardner asked me about Adam's navel, I found the question sophomoric, and told him so. Who cares? In what possible scheme of the universe would the existence of a small indentation (or not!) in Adam's abdomen make the least bit of difference to anything? Now, almost 25 years later, Gardner's question makes more sense to me, at least as far as its motivation is concerned.
Critics of intelligent design start their reasoning with a model of God and His rationality. The world as we find it must fit with that model. For Gardner, a rational Designer faces a dilemma in making the first human being, if He is creating him de novo. Navel or no navel? The former possibility entails the deceptive appearance of history; the latter leaves Adam looking somehow odd, facing awkward questions from the kids.
Just the sort of question Gardner delighted in asking.
In honor of his memory, let's give Gardner the last word, from his chapter (in Whys) on immortality:
Lord, remember me! If God is the creator and sustainer of the universe, if every wave and particle is what it is, does what it does, because God remembers it, then we exist now because God remembers us. And if God remembers us after we die, we may continue to exist. That is all a theist need say to establish in his or her heart the possibility of immortality.
Amen.