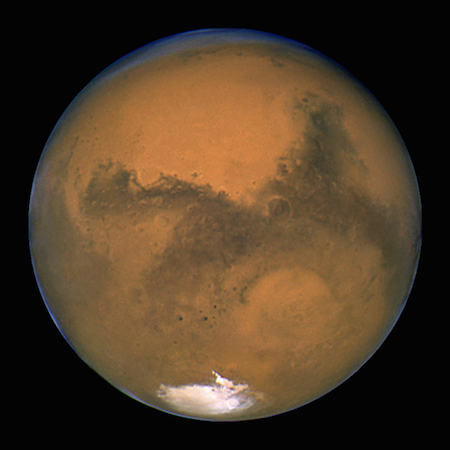 The bombardment of the planets by comets and asteroids was far more severe in the past, especially before about 3.8 billion years ago, after which it tailed off somewhat, although it has never ceased entirely. Evidence suggests that until about 3.5 billion years ago Mars was warm and wet and far more earthlike than it is today. As we know there was life on Earth at that time, it seems inevitable that the transfer of viable organisms from Earth to Mars would have occurred, thus seeding the red planet with Earth life. Of course, the same mechanism works in reverse; indeed, it is easier to knock rocks off Mars because of its lower gravity and thinner atmosphere.
All of which raises the intriguing question of whether life on Earth may have started on Mars and come here in impact ejecta, implying that we are all the descendants of Martians. Mars does have a few favourable aspects as an incubator of life; certainly early Mars was no less congenial than early Earth for biology to get started. But whichever way around it was, it seems that if we ever find traces of life on Mars, chances are it will just be good old terrestrial life. Paul Davies, "Did Mars and Earth swap microbes?" at Cosmos Magazine
Indeed. But that raises a question. If we discover life on Mars and it turns out to be a lot like life on Earth, will that be experienced as an achievement or a disappointment? It certainly won't prove anything like what some have hoped. Heck, it won't even prove that We Are NOT Alone…
Follow UD News at Twitter!
See also: Should we look for patterns of life, not chemical signatures, on Mars?
and
"Very Few" Exoplanets Have Strong Magnetic Fields Like Earth's