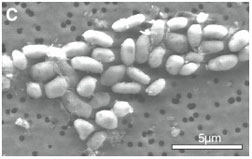 The alacrity of the refutations to NASA's breathless press release have been surpassed only by their vitriol. "Should not have been published", "scathing attack", "big idea with big holes", "arsenic cowards" etc.  But to my googling eyes, there really are two, and only two refutations given to the Science paper,
a) The technique was sloppy, and the arsenic might be just a contaminant, not a constituent of the cell, making the phosphorus levels low, but still consistent with phosphorus-starved normal life.
b) Arsenic bonds are 100x less stable than Phosphorus bonds, so the claims for As replacing P in DNA are theoretically impossible.
Now both comments are valid, as far as they go, but can be refuted with the simple observations. Neither is a disproof of the paper, both are merely implausibility arguments. That is, the authors of the paper knew their results were a bit sloppy. After all, the first author is a post-doc who graduated last year! You can't exactly expect her to have 20 years experience in laboratory technique under her belt.
So they did what any normal experimentalist would do under those circumstances–looked for verification methods that didn't rely on spotless laboratory technique.