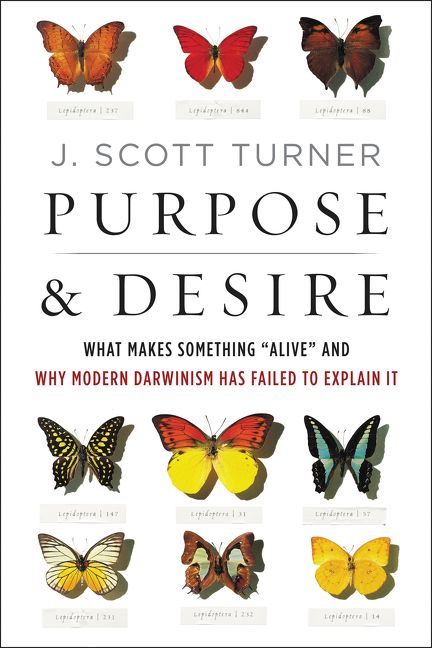 Get a look at this item:
Readers of Thomas Kuhn's famous book The Structure of Scientific Revolutions will know his central thesis that when anomalies and contradictions arise in a reigning scientific theory it creates a crisis out of which new theories emerge to replace the old. We may be seeing the beginnings of such a crisis for modern Darwinism, which appears to have gaps and contradictions that can't be explained or explained away. The rumbles about the anomalies in Darwinism are ruthlessly suppressed in the media and in academia, but as with all such crises, the problems are impossible to suppress forever, and the doubts are increasingly leaking out.

Steven Hayward, "The Power Line Show, Ep. 138: the Crisis in Darwinism?" at Power Line
So Power Line is interviewing J. Scott Turner, author of Purpose and Desire: What Makes Something "Alive" and Why Modern Darwinism Has Failed to Explain It. He's not an "ID guy" but that doesn't matter. His book's title tells you what you need to know. He understands that something is wrong. And his insights into insects' hive mind are a piece in the puzzle.
Here's a summary of Turner's views: "I can remember the day it happened: I could no longer be a Darwinist."
Recently, the Hoover Institution also interviewed three thinkers on the serious reasons for dissent and this Powerline item seems to fall into the same category.
Hoover and Power Line are conservative outlets, yes. But there was a time when they would hesitate to get involved with criticizing Darwin, for fear of boarding Noah's Ark.
But the mess is way too big for such worries now. Darwin can supposedly explain how we vote and shop and why we tip at restaurants, the mares who supposedly cause an abortion because they perceive that the stallion will not accept another stallion's offspring, the Darwinbird of pop science who can control the sex of her offspring by thought processes alone— wouldn't you be a bit behind the curve if you didn't ask some questions about the biggest popular science theory of our time?
(The Big Bang is actually the biggest theory but it is unpopular due to theistic implications.)
How about: Isn't most Darwinism today just pop culture trivia generated on behalf of a science theory that has outlived its usefulness but is, in many places, compelled by law or by official curricula? The dead hand, in other words.
If that is true, here is how we will know: Let's start looking more closely at information whose significance Darwinians underplay. Just to start with some recent whistles through the mailbox.
– So creationism works— but only for genes? So 2/3 of the time, we have " de novo emergence from ancestral non-genic sequences, such that homologues genuinely do not exist?" (Many genes occur with no predecessors?)
– Researchers: Plants somehow got "remodelled" 450 mya to grow leaves It looks very much like a plan rather than an accident.
– Ordivician Radiation–Another Strike Against Darwin (PaV) The authors give away the store: the Cambrian Explosion produced a whole host of "body plans," but few "species"—the COMPLETE OPPOSITE of Darwinian expectations, and, then, 80 million years later a whole host of species 'explode' onto the scene. No 'gradualsim'; just a huge amount of diversification out of nowhere in an incredibly short amount of time. So, in the Cambrian: body plans, but not a lot of species. In the Ordivician: a lot of species, but no new body plans.
---
See also: Hoover Institution interview with David Berlinski
Mathematicians challenge Darwinian Evolution
The College Fix LISTENS TO David Gelernter on Darwin! It's almost as though people are "getting it" that Darwinism now functions as an intolerant secular religion. Evolution rolls on oblivious but here and there heads are getting cracked, so to speak, over the differences between what really happens and what Darwinians insist must happen.
and
David Gelernter warns against Darwin mob And he's a Unabomber survivor.
Follow UD News at Twitter!