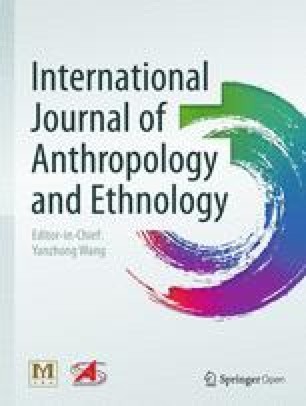 He got a reply within 24 hours, one which he considers "lame and evasive":
Briefly: Here's the Paper (Umer, S. Int. j. anthropol. ethnol. (2018) 2: 6. https://doi.org/10.1186/s41257-018-0014-2). The author, Sarah Umer is Charles Wallace Pakistan Trust Visiting Fellowship at SOAS (recipient: 2016-2017) and her Phd is from Lahore College for Women Universety, Pakistan, according to the South Asia Institute at the University of London.
From Coyne:
But the response is basically a self-exculpation, more or less saying that since the paper was submitted (DUH) and accepted after peer review, they can't do anything about it. Note that they didn't answer my questions about the terrible editing (I doubt, given the infelicities of writing and grammatical errors, that it was even edited.)

And of course there's no point in contacting the author (there's only one author), as she, as a creationist in Pakistan, is certainly not going to correct her article.

Well, I'm not giving up yet in trying to call Springer's attention to this travesty. Springer's management team has no email addresses listed (why is that?), and the CEO, Daniel Ropers, has only a Twitter site that he seems to never check. Nor do the journal's editors have any contact information. Nevertheless, I tried tweeting at the CEO. (Feel free to retweet it to @DanielRopers, though it's almost certainly futile.) Jerry Coyne, "Springer writes back, defending its publication of a creationist paper" at Why Evolution Is True
Jerry Coyne seems to need time off before he writes much more about this.
Added by News in the Comments below at 11:
The significant thing, all above, is that, so far, Springer does not care what Jerry Coyne thinks. That kind of thing is comparatively new. If they continue not to care, it will indicate a major change in the landscape: Each journal is hereafter entitled to its own standards of what truth is. Coyne and his pals no longer hog the mike on evolution.

Whether this will benefit the ID theorists who adhere to strict traditional standards of science – and come up with much that Darwinism doesn't account for – is an open question. They won't miss the vulgar persecution and misrepresentation but they will likely come to miss the idea that there are benchmarks, standards, and models. Most of the better-known ones are contemporaries of Coyne who grew up with those standards and saw them being misused – but never thought science could do without them.

We shall see.
To understand what may be happening better, see Sociologist: How ID foxes can beat Darwinian lions, a review of Post-Truth: Knowledge as a Power Game by sociologist Steve Fuller. Better still, read the book.
Follow UD News at Twitter!
See also: A Springer journal has published a creationist paper. And Darwinian evolutionary biologist Jerry Coyne, author of Why Evolution Is True, is, needless to say, upset. It's a good question, though, if we end universalism in science (and that's all the rage), why creationism in an anthropology and ethnology journal doesn't follow. Who is Jerry Coyne to say they can't do that?
and
Ending universalism in science: What will it mean? Wait till IPBES hears from the past lives people, demanding respect for their perspective. The term "We were all one-celled creatures once" could take on an entirely new meaning.