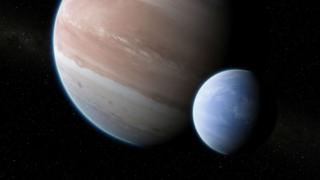 An MIT astronomer is 75% certain that an object previously suspected of being an Intro of exomoon (a moon orbiting an exoplanets) really is that:
The first confirmed detection of an exomoon would mark a milestone in exploring planetary systems throughout the Galaxy. It would, among other things, allow scientists to test ideas of moon formation using examples from beyond the Solar System.

Teachey's proposed exomoon is already throwing up some surprises. Evidence suggests the moon is about the size of Neptune, orbiting a planet roughly the size of Jupiter. That would make it unlike anything in the Solar System, where most moons are much smaller than the planets they orbit. "It's raising new questions about the dynamical processes that create planets and moons," Teachey says. Alexandra Witze, "Suspected first exomoon comes into tantalizing focus" at Nature News
Earth's moon is big enough that Earth and the moon can be seen as a double planet system. But we actually don't know very much about how it formed:
See also: Scientists finally know how old Moon is What's surprising, really, is how little we know about the moon in general.
And various current theories:
Moon formed from smashed moonlets?
Our moon formed in collision with embryo planet?
Another moon origin theory: Epic crash
How the Moon Formed: 5 Wild Lunar Theories (Mike Wall at Space.com, 2014)
Our moon formed in collision with embryo planet?
and
Origin of the moon still shrouded in mystery